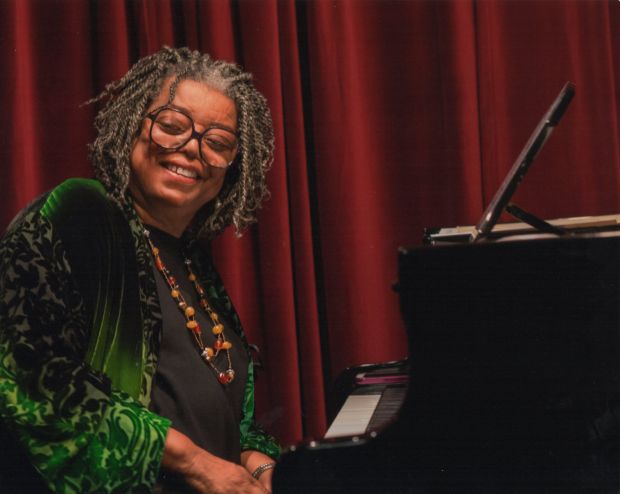 The National Women's Music Festival is well underway in Middleton, Wisconsin.  The coming weekend will bring a full schedule of concerts, workshops, and opportunities to learn, share, and enjoy music by women in virtually every genre.
It's no surprise that the event we are looking forward to the most is the performance by the National Women's Music Festival Orchestra, which will be presenting a stunning concert on Saturday, July 2!
The concert will include "Juba Dance" from Florence Price's Symphony No. 1, the Fourth Movement from Louise Farrenc's Symphony No 3, and two works by Alice Gomez – Pyramid of the Sun and Festive Huapango.  Yet, the work that I am most excited for is the new commission by Mary Watkins Initiate , which was commissioned for the Festival.
The new symphonic work explores tonality and the ways that tonal structure can affect each listener.  From the composer:
Throughout all three movements of Initiate, I play with different configurations of simple
major and minor melodies, and harmonies, often juxtaposed against each other, creating complexity, instability, unrest. Other times I deconstruct the same ideas to create simple major or minor triads to express basic human emotion such as sadness, joy, hope.

Technique aside, understanding the complexities that go into creating a musical composition
will have little to nothing to do with the experience of what you hear. The complexities are just a part of the landscape; the musical language of rhythms, sounds and pitches. When broken down music is, after all, a language expressing thought constructed from it own parts: alphabet, words, phrases, sentences, paragraphs. The music will either awaken something in you, comfort you, annoy you, alienate you, stimulate you, bore you, thrill you–all or none of these things. These single tones, simple intervals sounding together to create simple and complex harmonies and rhythms have, all from the same place, just come to pass.
Watkins' work as a composer and performer has long been established, having had works performed throughout the country including with The Women's Philharmonic Orchestra and The New Black Music Repertory Ensemble of Chicago.  Her role in advocating for and promoting the work of women composers cannot be underestimated.
The same can be said for the Music Director and Conductor of the NWMF Orchestra, Nan Harrison Washburn.  Former conductor of The Women's Philharmonic (and a current WPA Board Member), Washburn was also the recipient of the 2016 Jeanine C. Rae Award for the Advancement of Women's Culture.  (Read more about the award here.)
Best of luck to the NWMF Orchestra and Mary Watkins on the upcoming premiere!  An event not to be missed!