Born in Virginia in 1882 and raised in Washington, D.C., Mary Howe (nee Carlisle) was an accomplished pianist and composer of large and small forms. She studied at the Peabody Conservatory as well as abroad with Nadia Boulanger. Known primarily for her piano works, Howe's choral and orchestral compositions were also highly praised. In fact her "Chain Gang Song" for orchestra and chorus was specifically praised for its lack of femininity. Her works were acclaimed nationally and internationally, and she had several works commissioned, working actively until her death in 1964.  Her papers are held at the New York Public Library.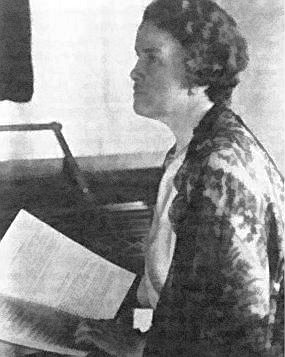 As well as composing, she was a prominent performer – joining Amy Beach in the Washington D.C. premiere of Beach's Suite for Two Pianos in 1925. She continued to befriend and work closely with women who worked in music as composers and performers; Howe was quick to join the Society of American Women Composers. Though she had incredible privilege in social status and opportunity, she was all too aware of the resistance that faced all women pursing a place in music. In an interview with the Washington Post in 1952 (and reprinted in Christine Ammer's Unsung: A History of Women in American Music ) Howe states:
Women composers should be played more than they are. I don't think conductors have a prejudice against women composers now. But no one puts women writers or women painters in a class any more, and they still do so with women composers. I know I considered it a handicap to be a woman when I started composing. I'm not a feminist. But I think I would have gotten along faster if I'd been a man.
And what does it say that the problems described almost 60 years ago continue still?
Below is Howe's Three Pieces After Emily Dickinson for string quartet: