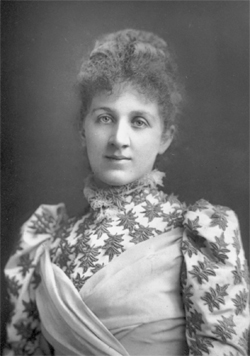 This week we are remembering the life and work of British composer and soprano Liza Lehmann (1862-1918).  
Born into a privileged family, Lehmann was given the opportunity to study music from a very early age in voice and composition.  Her teachers included Hamish MacCunn and Jenny Lind.  After a decade long concert career Lehmann got married and left her performing career behind, instead focusing on composition.  Her works included art songs, parlor songs, song cycles, and songs for children.  Many of her works remained popular, and continued to be published and recorded even in recent years.
She traveled later in her career, touring the United States in 1910, and championed her own works accompanying them in recital.  Notably, she was the first president of the Society of Women Musicians and became a professor of singing at the Guildhall School of Music, where she also wrote a voice technique book.  
Several works are available in the Public Domain through the Petrucci Music Library – including Nonsense Songs from 'Alice in Wonderland' and Bird Songs.  
Be sure to read an interview with Liza Lehmann published in The Etude magazine in April of 1910.  It provides excellent insight to her world, and the obstacles she faced as she embarked on a career in composition.  Here is an excerpt:
The idea of my becoming a composer was never even considered. Why? Simply because during my childhood the thought of a woman becoming a composer was not a popular one in England. It never seemed to occur to those who had the guidance of my early education that a woman could ever be taken seriously as a composer. Maud Valèrie White, however, had written some very successful songs, and her career and influence were a source of greatest inspiration to me. When on my marriage I decided to retire from the concert platform, I gave my whole attention to composition, I was determined not to let my physical condition sever me from my musical ambitions, and I also realized that my experience upon the concert platform, which had made me acquainted with many of the great vocal masterpieces, was of much value to me.
Read more in the composer's own voice in her autobiography, the Life of Liza Lehmann published in 1919 and available in full text online through Archive.org  and the University of Toronto.
Listen in to our Spotify Playlist of Lehmann's works: