Back on Aug. 9, 2015, Jeremy Eichler (the Boston Globe's classical music critic) annoyed me by repeatedly using male pronouns in an article about the art of conducting.  True, the article's focus was the Boston SO's new(ish) music director Andris Nelsons, but I bristled and rolled my eyes reading sentences like "…players can size up a new conductor in less than five minutes of watching him work" and "How important can he be if he's the only one onstage making no sound at all?"   Eichler dismissed criticism of his practice with this aside:  "He – and yes, it's still most often a he – channels the music's profundities and surface delights."  My response to Mr. Eichler sounds like a bumper-sticker of yore: If you aren't part of the solution, then your part of the problem.  But I think my phrase rings true.  Eichler is a professional music critic, and by imposing and reinforcing this male norm in his article, he lost an opportunity to observe one of our themes of the year in this blog: the times they are a changin'  (no thanks to you, Mr. Eichler) and more women are striding boldly to the front of orchestras to take charge as artistic leaders.
I finally decided to write this down today on hearing WHRB was featuring "FEMALE CONDUCTORS" in one of this season's "orgies."   The radio station features an extended and concentrated examination of a theme or topic, most often individual composers, but other topics as well.  It is ALL DAY TODAY (Dec. 11-2015) to 10 PM, streaming online!
FEMALE CONDUCTORS– In the 2012-2013 orchestra season, 80% of 800 American orchestras were conducted by males and 20% by females, including assistant and substitute conductors (and most of the women worked for smaller-budget/youth ensembles). Of 103 larger, high-budget American orchestras in the same year, 91% were conducted by men and 12% by women. 21 of the 22 highest budget US orchestras during that time were conducted by men. So who are these women conducting orchestras? This orgy spans several decades in the twentieth and twenty-first century, beginning with pieces conducted by Antonia Brico, who in 1930 was the first woman to lead the Berlin Philharmonic Orchestra, and Nadia Boulanger, the French composer and teacher, who was probably the first woman to direct a major orchestra, as she was the first to conduct the Boston Symphony and New York Philharmonic Orchestras. In the 1930's, she conducted world premieres of works by Stravinsky and Copland, among others. Imogen Holst was the daughter of composer Gustav Holst and a colleague of Britten. Veronika Dudarova was the first Soviet woman conductor. The two most frequently recorded women conductors are JoAnn Falletta and Marin Alsop. The appointment of JoAnn Faletta as the Principal Conductor of the Buffalo Philharmonic Orchestra in 1999 was considered a symbolic turning point in the legacy of female conductors. Marin Alsop, who was appointed as the Principal Conductor of the Bournemouth Symphony in 2003 and, more famously, the Baltimore Symphony in 2007, was the first woman to conduct the Last Night of the BBC Proms, a momentous occasion.  We'll also hear performances under Gisele Ben-Dor, Jane Glover, Sarah Caldwell, Eve Queler, Sian Edwards, Simone Young, and Emmanuelle Haïm, not exhausting the list of women conductors, but suggesting there are more of interest than commonly understood.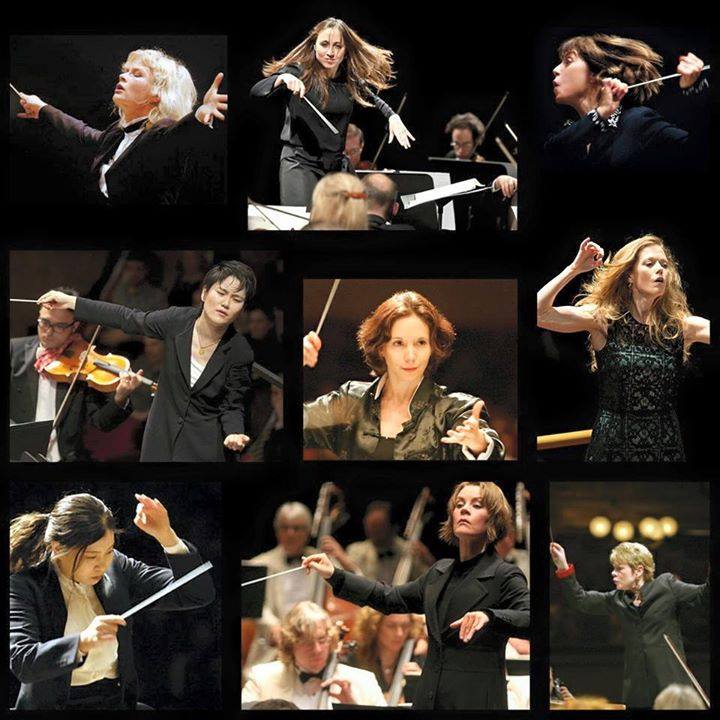 The conductors featured in this image from Classic FM are from left to right, top to bottom: Anu Tali; Joana Carneiro; JoAnn Falletta; Han-na Chang, Sarah Ioannides; Barbara Hannigan; Shi-Yeon Sung; Susanna Malkki; and Marin Alsop