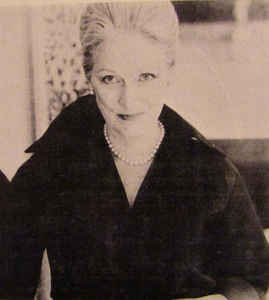 This week marks the 104th birthday of American composer and conductor Peggy Stuart Coolidge (1913-1981).
She began her career as a concert pianist, but turned to composition when a student at the New England Conservatory.  Though her early works are for piano, most of her compositions are for orchestra, including many tone poems, works for piano and orchestra, ballets, and incidental music.
Stuart Coolidge was one of the first American women to have an album devoted to her symphonic works, which were internationally recognized during her lifetime.  In fact, many of her works were first premiered in Europe.
An active conductor as well as composer, Stuart Coolidge led an all-woman ensemble in Boston, was pianist and assistant conductor of the Women's Symphony of Boston.  She also founded the Boston Junior League Orchestra.
Though a prolific, acclaimed, often commissioned, and internationally recognized composer, her symphonic works are rarely performed and few recordings exist, or are readily available.  We were delighted that the Boston Landmarks Orchestra recently performed one of her works, supported by a WPA Performance Grant, and hope to see more of her pieces in concert halls as more ensembles make an effort to include diverse programming.
Her papers and manuscripts are held at Harvard University.
Have a listen to two of her more famous pieces via Spotify below: