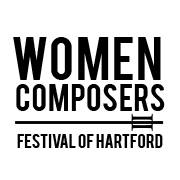 The annual Women Composers Festival of Hartford is an event not to be missed, and we are excited to know that planning for the 2017 festival is already well underway.  The four day event always includes amazing concerts, papers, workshops, and conversations about the value and merit of the under-performed work by women composers, and what can be done to change the tide.
This 2017 Festival will take place March 30-April 2 and feature Paula Matthusen as composer-in residence and the string trio forty/sixty as a guest ensemble.
Each year the Festival invites open submissions for scores for specific instrumentations, as well as a call for papers & presentations and a call for participation for the music marathon.  The deadline for (some not all) of these calls for submissions has been extended until November 1st, so don't miss your opportunity to be involved in this always thrilling and invigorating weekend of music!  Find out more information here.
For those people not able to participate or attend, there are still great ways to help support the important work being done.  The Women Composers Festival Fall fundraiser is now underway at Indiegogo.com, and includes some pretty amazing thank you gifts.  (Because, really, who doesn't want stemless wine glasses with a portrait of Nadia Boulanger on them?!?)  Support starts at just $5 and every bit can go a long way to make sure that the Festival continues to engage, inspire, and educate about the work of historic and contemporary women composers.
Find out more below!
Leave a comment