By Dr. April Lynn James.  Part 1 is published here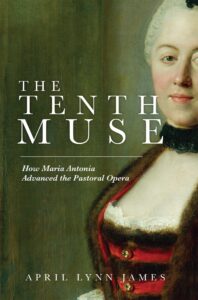 My bestselling book,* The Tenth Muse: How Maria Antonia Advanced the Pastoral Opera, is a major revision of the dissertation I completed in 2002. Why did I not publish it then? I had other things to do with my life at the time. I had just come out of a doctoral program, and I was not at all interested in becoming an academic whose work is only known inside of a small circle of people, all of whom are inside academia. I am a creative person. I am a singer, a soprano. Fresh out of Harvard, I let my skills in juggling and physical theater govern my career choices. I remained in the Boston area for a year, performing part-time and working as an Assistant Curator in Harvard's Eda Kuhn Loeb Music Library part-time. It was at the Loeb Library that I was offered the chance to create the groundbreaking exhibit, In Her Own Hand: Operas Composed by Women 1625-1913, using a newly acquired collection of Opera Scores. That exhibit was the first on this subject in an American library, and featured 18 composers, of whom Maria Antonia was one.
After that year, I returned to my native New York City to found The Maria Antonia Project, a company whose mission was to bring operas composed by women out of the archives and onto the world's stages. The MAP won some grants, and gave concerts of 18th-century music. I became a Speaker in the Humanities for the NY State Council on the Humanities, and presented lectures about my research across the state. But it is difficult to run an opera company, or have any kind of creative career, while helping one's mother through a series of health and personal crises. The stress from it all had a deleterious effect on my voice and on my overall health. I have come to call this period of my life my "Decade of Awfulness". In 2012, I put the MAP on hiatus; in 2013, I was able to escape the family drama, move to Philadelphia and restart my life and career.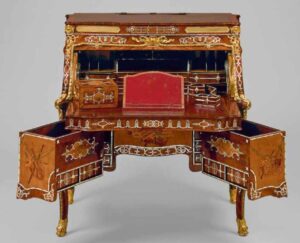 Yet Maria Antonia would not leave me alone. Every so often I would get an email requesting information about her or about some the composers featured in In Her Own Hand. A trip to the Metropolitan Museum in early 2012 turned into a research excursion for Maria Antonia as there was an exhibit entitled Extravagant Inventions: The Princely Furniture of the Roentgens, an 18th-century cabinetmaking firm. This was furniture that only the wealthiest of patrons could afford because these desks and cabinets were mechanical marvels. With the turn of a key, one could open a drawer that had hidden chambers, hidden mirrors, or other really nifty things. One mechanical desk is thought by collectors to be have belonged to Maria Antonia, not only because the initials "MA" are inlaid upon it, but also because among the elaborate hidden drawers and mechanisms, there is a music stand.  See a video from that exhibition here.
As readers of this blog know, recordings of music by women are still too few and far between. There is a 1998/reprinted 2007 CD of Maria Antonia's second opera, Talestri, regina delle amazzoni (Talestri, Queen of the Amazons) by Batzdorfer Hofkapelle, and the opening Sinfonia of this opera is available on YouTube performed by a few different ensembles, among them the Academy of Ancient Music. A few arias from Talestri have also made it to YouTube (search for "Maria Antonia Walpurgis" in order to filter out most, but not all, of the other Maria Antonias).  Most exciting for me, however, is the Spring 2023 release by the Spanish ensemble Thaleia of the six early arias by Maria Antonia that I discuss in The Tenth Muse!  A short video highlights the CD here. The CD is rounded out with the Sonata in Sol Maggiore for harpsichord and an Aria con istromenti: "In questo estremo addio" by Maria Teresa Agnesi, court composer to the Empress Maria Theresia. The ensemble does a good job of bringing Maria Antonia's virtuosic chamber works for soprano to life.  The full recording is on the Lindoro label and on Spotify. It's a pity that only one keyboard and one vocal work by Agnesi are on this CD, because it would be nice to hear more by her. There is one book of arias by Agnesi in Maria Antonia's library, but I was unable to unearth any correspondence between the two beyond a thank you note for these arias from Her Highness.
I feel the time is ripe for more recordings of Maria Antonia's music. No one has recorded her first opera, Il trionfo della fedeltà. I was the first doctoral candidate in the Harvard Music Department's history to perform as part of my dissertation presentation, presenting one aria from Trionfo—"Vorrei punir l'indegno"—accompanied by a chamber orchestra of fellow grad students. Now that my voice and health are back in shape, I plan to revisit that piece along with the rest of the opera, and I am looking for collaborators.
My research dismisses suggestions in articles on Maria Antonia found in the Norton/Grove Dictionary of Women Composers and elsewhere that Johann Adolf Hasse, court composer to the Saxon royal family, wrote the music for her operas. This appears to have been an accusation that Maria Antonia encountered and refuted during her lifetime; you will need to read my book to find out exactly how she dealt with it.  It is available here from Amazon!  Once you have done that, I hope you will reach out to me and join me in my quest to get even more of Her Highness' music out into the world.
*As I write, the book is still #1 New Release in Historical Germany Biographies (paperback) and #1 Kindle in Biographies of Classical Composers more than a week after publication.