Phew, what a year it's been! This time last year COVID still hung firmly over our festivities but this year the party is back on! I think it's fair to say we've all enjoyed returning to some semblance of normality, with live music gradually returning for good across the world and festivals, concerts, and gigs mostly going ahead as planned.
As 2022 draws to a close, I look back on the last twelve months in classical music – the challenges, triumphs, sorrows, and achievements.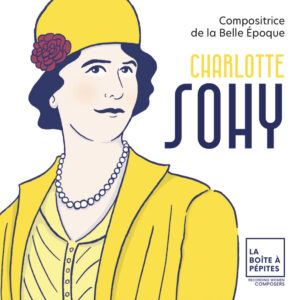 This year saw many ground-breaking achievements for female composers. In May, Ethel Smyth's glorious opera The Wreckers made history, as the Glyndebourne festival's first staging of an opera by a woman. The BBC Proms festival commissioned more music by women than men for the first time in its history: their world premieres included works by Cheryl Frances-Hoad and Anna Thorvalsdottir. Musical America named Missy Mazzoli as their Composer of the Year 2022; with Jessie Montgomery for 2023, making that four women in a row!  And French cellist Heloise Luzzati founded La Boîte à Pépites, a new record label dedicated to female composers: their inaugural release is a portrait boxset of fellow French composer Charlotte Sohy. And seven portrait albums dedicated to Florence Price's music were released during 2022, which excites me!
According to Donne UK's annual report, 7.7% of works by the 111 top worldwide orchestras were written by women, an improvement from 5% in 2021. In contrast, Women's Philharmonic Advocacy's annual survey of 21 American orchestras had mixed findings. 21% of composers represented were women (1% more than the previous season) but only 14% of works were by women, less than the previous season.
Female conductors continued to make headway this year. In March, Gemma New was appointed the first female principal conductor of the New Zealand Symphony Orchestra, Lexington (KY) Philharmonic Orchestra hired Melisse Brunet as their first female chief conductor in October, and in July, Nodoka Okisawa become the first female chief conductor of the City of Kyoto Symphony Orchestra. In addition, Nathalie Stutzmann follows Marin Alsop as the second woman in history to lead a major U.S. orchestra, with her new appointment to the Atlanta Symphony Orchestra announced in October.
Nearly two years ago I wrote the article Gender Equity or White Supremacy, on the bias in the women's music movement, with white women disproportionately reaping the benefits. This situation continues with only glacial change – the 2022 Proms only commissioned a single woman of colour (the great Errollyn Wallen), white female conductors gain new appointments and white female composers listed above achieved success whilst female composers of color remain marginalised. The Donne UK survey found 5.5% of works were written by white women whilst only 2.2% were written by women of color.
On a personal note, this year I became the first woman of colour to write regularly here at Women's Philharmonic Advocacy, an organisation founded in 2008 and featuring 22 contributing authors so far. I've very much enjoyed writing regular articles for WPA, championing women of all skin colours in my work and celebrating the long history of female classical composers. I look forward to continuing next year.
And after nearly 4 years, I permanently ended my online voluntary radio show, The Daffodil Perspective. The trailblazing initiative played at least 50% female composers on every episode, creating gender parity every year as well as racial balance. During the past season women made up 52% of composers, with women of colour making up 29% of composers. That's over 15 times more women of color than performed by worldwide orchestras (similarly with men of colour – 30% on The DP vs 4.5% in the mainstream). The Daffodil Perspective featured 130 composers of color (out of 216) last year alone, representing 70 countries from around the world, in every continent. On The Daffodil Perspective the global majority represented an actual majority, perhaps a unique occurrence in classical broadcasting. Please see here for full statistics and comparisons. A shame it may be — I enjoyed championing so many hundreds of marginalised voices not heard anywhere else. However, the Daffodil Perspective remained impossible to sustain, as a voluntary project by a broke woman working a minimum wage job unrelated to classical music, failing after four years to break into the industry.
Removing myself from this hamster wheel allowed me some time for reflection. The industry remains dominated by institutionalised racism, sexism and various entrenched biases. I look forward to further exploration and sharing my experiences next year. Meanwhile all transcripts remain archived in my possession and I will consider paid proposals for accessing these invaluable resources, along with assistance making the archives available to sell. Please contact me here to discuss options.
In global affairs the whole world felt shock and dismay at the atrocities in the Ukraine. Amongst the tragedies was the loss of Ukrainian composer Hanna Havrylets (Ukrainian: Ганна Гаврилець) she died on the third day of the war with Russia, at the age of 64. Havrylets made invaluable contributions to Ukrainian culture, both with her numerous pieces and as composition professor at the National Academy of Music in Kiev. Our thoughts are with the Ukrainian people.
Reacting against the war, Canadian-Ukrainian conductor Keri-Lynn Wilson founded the phenomenal Ukrainian Freedom Orchestra. Composed of Ukrainian musicians both in Ukraine and around the world, the orchestra completed its inaugural tour during the summer with a stunning display of the power of music over hardship, appearing at BBC Proms, Edinburgh Festival, the Kennedy Center as well as major venues in France, Berlin, Dublin and Warsaw.
In summation, whilst there have been several successes for women all over the world, there remains a lot to be challenged and much to work on in 2023. In whatever way we spend the holidays I hope we can find time to relax, recharge and reflect in order to move gently and thoughtfully into the New Year.
We at Women's Philharmonic Advocacy wish you all the best and we will see you in 2023!