We are saddened to hear about the death of Finnish composer Kaija Saariaho, who passed away at home in Paris overnight.  In October 2022 there were celebrations around the world for her 70th birthday.  Immediately prior to her passing, Saariaho completed a concerto for Trumpet which will be premiered in Helsinki in August, 2023.  We are left to imagine what additional music she might have created.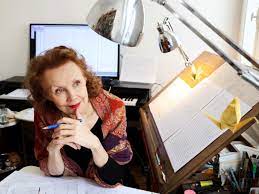 Throughout her remarkable lifetime, Saariaho completed over one hundred works for large and small ensembles, including several operas.  Quite notably, her opera L'Amour de loin, which was completed in 2000, was the second work by a woman composer to ever be performed by the Metropolitan Opera in New York City.  Women's Philharmonic Advocacy offered two podcasts about the monumentous event. 
Saariaho moved to Paris to study in 1982 and never left, having spent the last 40 years calling France home, even as she traveled worldwide to receive awards, attend premieres of her works, and offer her guidance to young composers.
Those unfamiliar with her life and work can gain much from her professional website, this interview with Music & Literature (which took place in 2014) as well as listening in to the numerous recordings that are widely available – some of which are included below.  Her publisher Wise Music Classical, made this announcement.  The world has lost a deeply compassionate and visionary artist.