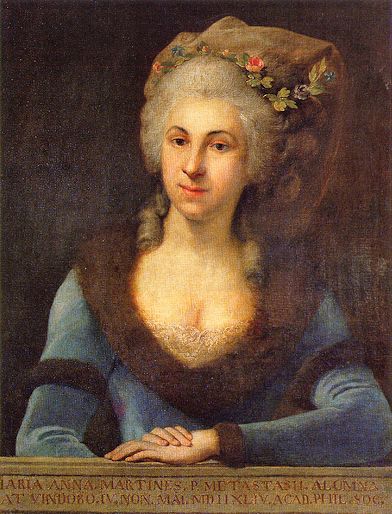 Marianna Martines (1744-1812) is considered to be among the most acclaimed and prolific composers in Vienna during her lifetime.  She was friends with Mozart, and Haydn (who lived on the top floor of her apartment block) gave her keyboard lessons.  Mozart and Haydn attended her concerts, and it is believed that they also each dedicated music to Martines.    
Born into an upper class family with Spanish ancestry, Martines was able to take full advantage of lessons, attending concerts, and making connections with the musical elite of the time.  Martines is said to have impressed everyone who heard her perform, and quite notably received the admiration of Empress Maria Theresa.  
Martines was just as famous as a concert organizer as she was a performer and composer, holding salons in her home for the musical elite of the time.  In addition to her composing, performing, and concert organizing, she also taught extensively throughout her life.  Many of Martines' 200 compositions have been published.  That such an accomplished and celebrated composer has fallen into obscurity is the sad reality of the perceived value that is often attributed to  "women's music".  Martines' first Mass ( of two) has fallen out of the canon, even though scholars consider it to have been the inspiration for Mozart to compose his own Mass of 1768, which is performed widely.
Notable, too, is that Martines wrote so many large works without a formal musical education – though she did receive a general education that far surpassed what was typically available to women at the time, she received no official music education during her lifetime.  Many of her works have survived over the centuries, and several in particular have been receiving more attention in recent years – especially as newly edited engravings of her works have become available, allowing ensembles to more easily acquire and perform the pieces.
We are very excited that the publishing branch of Women's Philharmonic Advocacy has recently made available a new edition of Martines' Sinfonia in C Major (1770).  This edition was carefully edited by conductor Nan Washburn, originally for performance by The Women's Philharmonic, then known as The Bay Area Women's Philharmonic. It was included on their first recording Baroquen Treasures, released in 1989, and still available.  Now there are a growing number of recordings available (often titled "Symphony in C Major").  Have a listen below and it will be clear why the work of Martines' is so well suited on a program to represent music of the classical era.
The WPA edition is available by contacting [email protected].