After a paralysing illness derailed a bright career as a concert pianist, Modesta Bor found passion and purpose as a composer, emerging as one of the most significant musical figures in 20th century Venezuela. Not just through her glittering compositional career but also through her work as an educator, Modesta Bor influenced generations of Venezuelan composers and musicians. Let me shine a light on this important woman and some of her greatest orchestral music.
Compositional Career
In 1942, Bor entered the José Ángel Lamas School of Music, her class collectively known as the Santa Capilla school of Venezuelan composition, taught by Vicente Emilio Sojo. In 1959 Bor achieved a master's degree in composition with her graduation piece, the stunning Suite for Chamber Orchestra, just a year later winning the National Prize for her spectacular Viola Sonata. The same sonata won her a full scholarship to study with Soviet composer Aram Khachaturian in Moscow.
A nationalist composer, Bor's folk inspirations appear more obviously in her earlier work, before her more modernist and atonal style evolved. Modesta Bor wrote for various genres – piano solo, chamber music, songs, choral music and orchestral works – her mastery proven by the array of National Prizes she amassed in every field. In 1991 Bor reached an apotheosis when she received the National Prize in Music, the highest honour for Venezuelan musicians, the award giving her a lifetime allowance.
Influence as an Educator
Holding several appointments during her career, Modesta Bor occupied an important role in inspiring young artists in Venezuela. She founded a children's choir at the Juan Manuel Oliveras School of Music, and from 1974 she served as Professor of Composition at the José Lorenzo Llamozas School of Music, where her students included composer and choir director Cesar Carrillo. Bor simultaneously maintained the Head of the Music Department position at the Central University of Venezuela.  Composers Beatriz Bilbao and Sylvia Constantinidis were amongst those she taught. In 1990 she became composition professor at Centro Universitario de Artes (University Centre for the Arts). 
Obertura
Written after her return from Russia, Overture won Modesta Bor the National Prize for Short Orchestral Works in 1963. A tropical paradise of a piece, starting with a sultry serenade passed around the wind instruments before the percussion and brass kicking off a groovy Latin rhythm which continues throughout, Obertura is a delicious delight for the ears.
Genocidio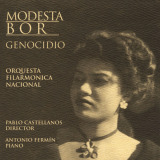 The title referring not to the murder of people but of culture, Bor's 40 minute orchestral poem 'Genocide' from 1970 represents an impressive political statement. Modesta Bor rails against the 'massive liquidation' of traditional music in favour of mass-media sponsored foreign music. Demonstrating the conflict using motifs evoking sounds from her home island of Isla de Margarita, Bor clashes these with source music from Pepsi Cola and other commercial jingles airing at the time. Too political for the period and disqualified from the National Prize entries in 1970, Genocidio has since been re-evaluated as a Venezuelan classic, recorded and performed several times.
Piano Concerto
In 1983 Modesta Bor wrote her fabulous Piano Concerto, dedicated to her protegé and fervent champion of her music, Antonio Fermin. Fermin premiered the work on January 20, 1985 with conductor Alfred Rugeles and the Orquesta Sinfónia Municipal de Caracas, Antonio Fermin would later record the work on CD with the Orquesta Filharmonic Nacional and Pablo Castellanos conducting. Dazzle and panache fill the first movement with sparkle coming from the percussion section. The calmer second movement introduces an incisive, rhythmical theme before the brilliant third movement Allegro con Fuoco, where the orchestra and soloist combine with increasing passion and ferocity, heading to a chaotic and fiery finish.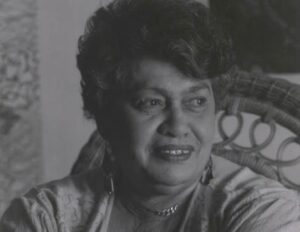 Legacy, Resources, and the Modesta Bor Foundation
Modesta Bor left behind a powerful legacy, in addition to Antonio Fermin, phenomenal Venezuelan pianist Clara Rodriguez frequently performs Modesta Bor's work in concert and on record. And in 2018 Modesta's granddaughter Stephanie Bor created a documentary about her life and work.
For the past 21 years The Modesta Bor Foundation, run by Modesta Bor's daughter Lena Sanchez Bor and colleagues, have protected and disseminated Modesta Bor's musical archive. Through their work and partnership with the publishing company Ediciones ARE, Bor's complete choral music and complete solo piano music have already been published in two volumes. Ediciones ARE also published several of her chamber pieces, choral, vocal works and her string orchestra piece Acuarelas, with (we can hope) symphonic music to come. The three pieces I discussed above were all featured on a , performed by the National Philharmonic Orchestra, however I cannot find the scores and parts anywhere. The Modesta Bor Foundation and Ediciones ARE likely have information about accessing these orchestral scores. However, since the worsening of the political and economic situation, few Venezuelan resources are available for arts organisations.
But we will be following up later this month with news about an exciting project based in Germany — https://regresoalmar.ck.page/
YouTube Recordings
Acuarelas for String Orchestra, Movement I: Sueno
Suite for Chamber Orchestra (on Soundcloud)
References
Website: Modesta Bor Foundation
Website: Ediciones ARE
Dissertation: The Art Songs of Modesta Bor by Nicholas Miguel, 2018
Dissertation: A Conductor's Guide to the Selected Choral Works of Modesta Bor, by Cira Parra, 2006
Documentary: Modesta by Stephanie Bor and Paula Marquinez, 2018 (In Spanish)