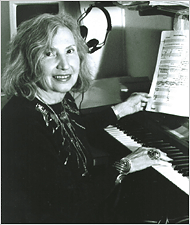 This week we are honoring the life and music of German composer, pianist, and educator Ruth Schönthal (1924-2006).  Born in Hamburg, she demonstrated an early talent and became the young student ever accepted to the Stern'sches Konservatorium in Berlin at age five.  After being forced to leave Nazi Germany in 1935 due to her Jewish heritage, Schönthal continued her studies at the Royal Academy of Music in Stockholm.  The turmoil in Europe led to further moves – first the USSR, then Japan, and Mexico City where Paul Hindemith heard her perform her own works for piano in recital.  Shortly afterward, Hindemith secured a scholarship for Schönthal to study at Yale, where she was one of the few of Hindemith's students to graduate with honors.
Throughout her compositional career Schönthal received commissions for operas, orchestral works, chamber pieces, and works for solo piano and organ.  Also a sought after educator, she maintained a private piano studio as well as taught composition and music theory at NYU, a position she maintained until shortly before her death.  Many of her piano students have achieved great success – including Stephanie Germanotta, who is more commonly known as Lady Gaga.  
There are several recordings of her chamber works and songs – which are also still readily published and available.  Several of her piano works are available through Carl Fischer, and songs through the Southern Music Company.  We can only hope that her larger works, including her Second Piano Concerto, The Beautiful Days of Aranjuez, Music for Horn and Chamber Ensemble, and many additional works available through Furore Verlag, will once again get the attention they deserve on concert stages in the United States and abroad.  
Schönthal passed away in 2006 at age 82.  The New York Times noted her many achievements as a composer and educator in her obituary.  Learn more about the composer through her own voice in an extensive interview of Schönthal by Bruce Duffie here.  
Listen in to some of her works through our Spotify Playlist below: