Women's Philharmonic Advocacy is a non-profit organization which (since 2008) has been demanding equity for women composers and celebrating the legacy of The Women's Philharmonic (1980-2004). Applications for 2023 WPA Performance Grants opened on September 1, 2023. Community, professional, and youth orchestras in the United States are eligible. Those that have demonstrated an established commitment toward diversity, inclusion, and representation; seek to expand their repertoire, attract wider audiences, and include engaging educational programming; and wish to be positive models of change in the classical music world are especially encouraged to apply. Ensembles will receive a total of $5,000 over three years (the 2024-25 through 2026-27 concert seasons) to support ways to expand their programming, engage new audiences, and demonstrate the truly diverse history and future of classical music. The deadline to submit applications is November 3, 2023.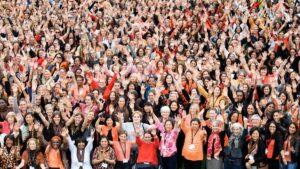 The WPA Performance Grant program was established in 2012 to encourage orchestral ensembles to perform more works by women composers. As of the fall of 2022, the grants program was revised to support ensembles over a multi-year period and provide more significant funding to help ensembles and their performances to be truly representative of the diversity of western art music, actively leaning toward the future in terms of education, outreach, and wider engagement
We at WPA are excited for the opportunity to build longstanding relationships with ensembles nationwide and to enhance the work that is already being taken on to make classical music more accessible to and representative of the wider public. Learn more at the Grants page on WPA's website.
Please help us spread the word!  And good luck to all who chose to apply!