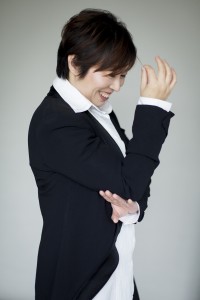 The New Jersey Symphony has named Xian Zhang as their 14th Music Director.
The Chinese American conductor is well known – and well regarded – throughout the United States and around the globe.  She was appointed the Assistant Conductor of the New York Philharmonic in 2004, and was appointed Associate Conductor by Lorin Maazel in 2005.  Zhang also has the distinction being the first woman to conduct the Staatskapelle Dresden, one of the world's oldest orchestras, in its home concert hall.  She was also the first woman to be named the music director of an Italian Symphony (the Orchestra Sinfonica di Milano Giuseppe Verdi, effective in the 2009 season).
The New Jersey Symphony website has created a great space on their website for the announcement, more information about Zhang, and an opportunity to ask questions and post comments.
In covering the story, The New York Times said this:
She is joining a small but growing cohort of women who are breaking the glass ceiling that still makes the sight of female conductors rare, long after women have made gains playing in most orchestras. A handful of women lead orchestras in the United States, including Marin Alsop at the Baltimore Symphony Orchestra and JoAnn Falletta at the Buffalo Philharmonic Orchestra. The New Jersey Symphony's associate conductor is the New Zealand-born Gemma New.
This is a fantastic appointment, and a wonderful opportunity for both Zhang and the New Jersey Symphony.  Her reputation, and critical acclaim, have followed her around the world and there is no doubt that she will have a great impact – and be a great inspiration to young women who are interested in pursing a similar career path.  In an interview by The Philadelphia Inquirer in 2012 before conducting The Philadelphia Orchestra, Zhang said this:
She points out that becoming a conductor was not an early goal.

"I didn't consciously choose it. In a way I was led on to doing it, and it kept snowballing. Then it was about two years after I started conducting that I realized I should be considering it as a profession.

"In conservatory, it changed when I was 16 or 17. I met a conducting teacher," another female conductor, Wu Lingfen, "and she taught me in a very natural way. It was a lot about reading scores on the piano and a lot about score reading. Compared to practicing 10 hours a day on the piano, this is what I am better at. I needed big hands and big muscles as a pianist, but in this I can use more of my brain and my ears."

As Wu was an inspiration to her, Zhang hopes her career will be a signal to other women that the podium is open to them.

"It's somehow very intimidating, this profession. To have such authority and in a public figure, they have some kind of fear, like it's unapproachable. Really, when you get to do it as a profession, it's mainly about music and interaction with musicians, traveling and learning the repertoire. But just looking from the outside, it's scary. It's too exposed. People see your every move."
Be sure to watch the interview Xian Zhang did in 2011 when she conducted the Pittsburgh Symphony:
And here is a video of conducting at the BBC Proms in 2013: