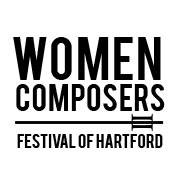 I am delighted to share the Women Composers Festival of Hartford's announcement for the 2017 Festival, which will take place March 30-April 2.
Each year the organizers masterfully balance a range of contemporary and historic music performances, works by the composer-in-residence, concerts featuring works written for the ensemble-in-residence, and scholarly papers and discussions.
This year the Festival is featuring the music of Paula Matthusen and the string trio forty/sixty, and there are many opportunities for composers, performers, and scholars to be involved!
The featured categories include works to be performed by featured ensemble forty/sixty, with a separate entry specifically for student composers, as well as works for Children's Chorus.  Composers and performers are also invited to submit proposals for music to be heard at the annual Music Marathon, presenting works by contemporary or historic composers.  In addition to all the music that will be heard throughout the festival, scholars are invited to submit proposals for lectures, panels, and lecture-recitals.
Find more information about each category and deadlines at the Women Composers Festival of Hartford website – and share widely!