I was thrilled to read that the Fairfax Symphony Orchestra presented the U.S. Premiere of Czech composer Sylvie Bodorova's Symphony No. 1.  Read the review in the Washington Post.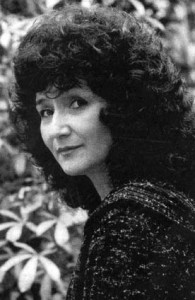 The work was first premiered in March of 2011 – what a shame that it has taken so long to be heard in America.  As the review reveals, FSO conductor Christopher Zimmerman was a classmate with Bodorova and has included several of her works in the FSO programming throughout his tenure.  After the success of the recent performance I hope that more American orchestras will look to include works by Bodorova in upcoming seasons – her works list is extensive and quite diverse, including many pieces for orchestra, as well as concerti, chamber works, and an opera.
Follow this link for an interview and to learn more about Bodorova's life, music, and experiences.  (Including, of course, the "woman composer" question.)
From the interview transcript:
Were there many women studying composition at conservatory when you were there?

"No, even at the Academy of Arts I was the only woman who was a composer at that time. It was much more rare than today."

And was that difficult for you at all, being the only woman studying composition?

"I didn't take it that way, no. I didn't feel that it was a problem. I'll tell you, my strategy from the beginning was this: when you start composing as a young girl you don't think of yourself as male or female, you just compose. And that is my approach to composition: I'd like to be a good composer, not to be a good female composer, that's how I feel about it."

Is it just as easy for a woman composer to become established and accepted when her work is good?

"I would say that we have some advantages. For example, when I started I was better seen than others, because I was a rarity, you know? So if you want to see being a female composer as a positive value you can. If you want to see the negative values you can find many of them as well."
A live recording of the premiere of Symphony No 1, performed by the Prague Symphony Orchestra, is available from Naxos.