Women's Philharmonic Advocacy was delighted to award the Rochester Philharmonic Orchestra and conductor Arild Remmereit with the first ever AMY Award for Excellence in Orchestral Programming.
We have kept up with the RPO over the 2011-2012 season. During his first season with the ensemble, Remmereit set a wonderful precedent by programming eight works by historic and contemporary women. Liane Curtis, the WPA founder and president, made the trip to Rochester on Thursday to present the award, this beautiful sculpture designed by Rita Blitt.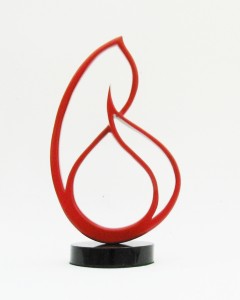 You can read the RPO's press release on the award here.
And do be sure to stop by Arild Remmereit's Facebook page for photos of the maestro with Liane as well as with composer Margaret Brouwer, who was commissioned by the RPO. Her new work, Caution Ahead—Guard Rail Out was premiered on Thursday on a program that also included Sofia Gubaidulina's Two Paths: A Dedication to Mary and Martha.
Congratulations to the RPO and Arild Remmereit! We look forward to more good work to come next season!