News to start your week!
The Guardian has reviews of two new CDs of works by women.  The first are works for piano and orchestra, including the Amy Beach Concerto, Dorothy Howell's D Minor Concerto, and Cécile Chaminade's Konzertstück. Read the review here.  There is also a new recording by pianist Diane Ambache featuring the chamber works of Grażyna Bacewicz.  Learn more here.
The Awl's Fran Hoepfner writes about how reading a Brahms biography only made her obsessed with the life and work of Clara Schumann.  It's a wonderful perspective of a music enthusiast falling in love with the music – and the tenacity – of women composers working against societal norms.  It's also a great introduction to those only familiar with Bach, Beethoven, and the Boys to the obstacles that women in music faced.
Great news from the Chattanooga Symphony and Opera – they have extended the contract of Music Director Kayoko Dan to May 2022.  We look forward to more great works, and inclusive programming, in the seasons to come!  The Chattanoogan has the story.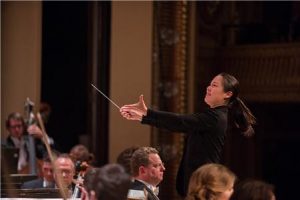 Planning ahead, BBC Radio 3 will feature a concert by women composers in their "Lunchtime Concert" series.  Included will be works by Gubaidulina, Laura Snowden, a new work by Joo Yeon Sir, and Fanny Mendelssohn Hensel's Easter Sonata, which until recently was wrongfully attributed to her brother Felix.  Find out how to listen in and learn more here.
What did we miss?  What are you reading?  Leave a comment and link and let us know!