We start with some BIG NEWS!
Dame Ethel Smyth's "The Prison" has become the first work by a historic woman composer to win a Grammy Award. Smyth: The Prison, with soloists soprano Sarah Brailey and bass-baritone Dashon Burton, and the Experiential Orchestra and Chorus directed by James Blachly, won in the Best Classical Solo Vocal Album category.  The official list of Grammy winners is here, with news reports (so far) from Johnstown PA, where Blachly is music director of regional symphony, and from the San Francisco Chronicle.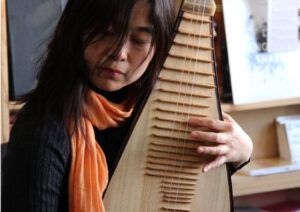 For International Women's Day, the folks at NPR's Tiny Desk Concert put together a list of must-hear women who have graced the Tiny Desk throughout the years.  Included are composer and master of the pipa, Wu Man, pictured.
Pianist Lara Downes, who has been lifting Black voices through her podcast Amplify, has a new project: Rising Sun Music will release a mini-album every month to highlight the works of Black composers that have been forgotten by history.  The first installment in this project features music by Florence Price, Hazel Scott, and Nora Douglas Holt.  Learn more here on Morning Edition.
Last week we shared the exciting performances that were happening because of International Women's Day.  Here is Flora Willson's review (in The Guardian) of "A Century of Music by British Women" that took place at St John's Smith Square in London – which you can watch on demand until April 8.
Rian Evans also reviewed a concert of works by women composers that kicked off a festival featuring songs by women.
This week The Guardian explored why there are so few women percussionists.  The answer isn't complicated or difficult – but still unfortunate.  Here's to more equality – in education and opportunities – moving forward!
Julia Adolphe's latest guest on her podcast about mental health and music is Sarah Kirkland Snider, who shares her experiences with Generalized Anxiety Disorder and Major Depressive Disorder.  Read on and listen in at NewMusicBox.
Florence Price is in the news again this week at the BBC thanks to the research of Dr. Samantha Ege, whose album of works by Price was just released.  Read more here, and watch Dr. Ege's outstanding performance of Fantasie Negre No. 3 in F minor below:

And Marin Alsop talks to Colorado Public Radio about 10 of her favorite contemporary women composers – a list we absolutely endorse!
What did we miss?  What are you reading?  Let us know at [email protected]!