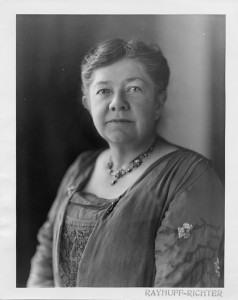 Saturday (September 5) marks the 148th birthday of American composer Amy Beach.
She is remembered today as being the first American woman to achieve acclaim as a symphonist.  Her first (and only symphony), which was subtitled "Gaelic", was premiered by the Boston Symphony Orchestra in 1896.  However, her achievements as a composer, performer, and educator are far greater than this one work.
Beach (born Amy Marcy Cheney) was a child prodigy, gaining recognition first as a pianist and making her professional debut in Boston when she was 16.  Her public performances largely ended after she married at age 18 and she began to use the professional name Mrs. H.H.A. Beach.    Her husband, a prominent Boston surgeon, limited her performance to twice a year (and only to raise money for charity) and encouraged her to compose.  However, except for a year of counterpoint studies when she was a child, Beach did not have formal training in composition, instead teaching herself by studying the works of the "great masters".
After her husband's death in 1910 Beach spent three years touring Europe and continued to compose actively. She became an advocate for young composers and served as the first president of the Society of American Women Composers.  Her oeuvre spanned virtually all genres – from the works for orchestra which made her famous to chamber works and art songs that were published actively in her lifetime, and are still available.
Find more information, including a discography, archival photographs, complete works list, and images from her manuscripts, at AmyBeach.org.