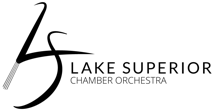 More and more ensembles have been embracing the summer festival season in recent years, and using the opportunity to explore new approaches in performance venues and programming.
The Lake Superior Chamber Orchestra is one of the most established summer ensembles, first established in 1987 to extend the classical music season into the summer months.  Though always committed to a diverse and engaging programming, the work of Artistic Director Warren Friesen in recent years is particularly commendable – which is why the LSCO is a recipient of a WPA Performance Grant.
The 2016 season boasts four concerts, three of which include a work by a woman composer:
July 21: Germaine Tailleferre – Double Concerto for Piano, Flute, and Strings

July 28: Alice Mary Smith – "Allegretto amorevolle" from Symphony in C Minor

August 4: Tina Davidson – Celestial Turnings for strings
See the full repertoire for each concert for the 2016 season here – which will also show the brilliant programming of each concert, pairing contemporary and historic composers brilliantly!  I am particularly excited for the inclusion of work by Alice Mary Smith – have a listen to her work below:
Congratulations to the LSCO!  I'm already looking forward to seeing what the 2017 season will bring!