Editor's Note:   While our focus at WPA is on women in classical music, we know the boundaries of the term "classical" have always been flexible and porous, from the earliest music of the Western church appropriating popular melodies, to Lizzo playing a flute that belonged to the fourth US President.  Our featured composer excelled in operetta, a genre that lives on the border of classical and popular, one whose name seems to mean "opera, but more accessible."  Given that Chiquinha Gonzaga's work remains so influential in Brazil, we hope her music and life will become better-known in the rest of the world.  —  Liane Curtis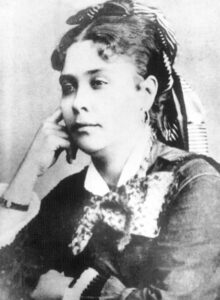 Francisca Edwiges Neves Gonzaga (better known by her nickname Chiquinha) transformed Brazilian music with her fabulous compositions, invented Carnival as we know it, and campaigned tirelessly for composers' rights. A composer, pianist and conductor, allow me to introduce you to this trailblazing, inspiring force of nature!
Early Life
Chiquinha Gonzaga was born on October 17, 1847, a mixed-race daughter of a Brazilian military official.  Her father raised her in traditional upper-class society, an oppressive space for women at the time. The rebellious Gonzaga fled an unhappy arranged marriage; ostracised by her family, she took to the streets of Rio and made her living by teaching piano and performing in bars. Gonzaga befriended local flautist and composer Joaquim Antonio da Silva, joining his band Choro Carioca as the first woman and first choro pianist (more on choro below).
Musical Style
Gonzaga enhanced her short formal music education by absorbing the musical diversity of 19th century bohemian Rio, a mixed population containing 50% slaves from Africa, Portuguese colonisers, and indigenous peoples. During a period where music by slaves was seen as second-class music for criminals, Gonzaga celebrated and promoted it. A unique visionary, Chiquinha Gonzaga demonstrated an extraordinary ability to combine the various musical forms of the time: the popular European genres of polka and waltz; the African rhythms of batuque and samba as well as folk melodies and street songs. Through her music she captured the spirit of a nation and invented Brazilian popular music as we know it.
Atraente
In 1877 Chiquinha Gonzaga wrote and published her first composition Atraente (meaning Attractive), a piano piece based on the European polka and adding African rhythms to create one of the first choros (choro became the dominant musical genre in Brazil, eventually mutating into popular music). Atraente launched Gonzaga to national fame and remains a classic in the choro repertoire. Thousands of recordings and instrumental editions exist, including an arrangement for chamber orchestra on Sheet Music Plus, and orchestral arrangements are currently being performed in Germany!
Theatrical works
Always with a keen eye for new trends (bossa novas), as musical theatre gained popularity in Brazil, Gonzaga composed her first operetta La Corta Na Roca in 1885. In addition to writing the music and lyrics Gonzaga conducted the operetta herself, becoming the first female conductor in Brazil. Gonzaga went on to write several theatre works, the apotheosis of which must be Forrobodó. An opera burleta chronicling real life on the streets, Forrobodó took the theme of a Brazilian street dance and included such characters as thiefs, prostitutes, night watchmen and mulattos (the term for mixed race people at the time). Written in 1912, it became so popular it ran for 1500 performances (roughly four to five years). Considered a musical treasure, it has seen numerous revivals, most recently in 2013 at the Teatro Sesc Ginástico (in Rio). A piano reduction is freely available to download on chiquinhagonzaga.com. We wonder if an orchestrated version might survive? Or perhaps one needs to be re-constructed. Anyone wishing to help us pursue this, please get in touch!
Gaúcho – Corta Jaca
Gonzaga's body of work numbers over 2,000 pieces in an unprecedented variety of musical genres – the waltz, tango, polka, march, choro, habanera, and more but her most popular work remains Gaúcho – Corta Jaca (meaning Cowboy, Cut The Jackfruit, a sexual connotation). Written in 1895 and featured in musical revues, it gained infamy in 1914 when Gonzaga and her friend Nair de Teffé (trailblazing female cartoonist and first lady of Brazil) performed it on piano and guitar for a high society diplomatic function. Their performance broke boundaries — such popular street music had never been heard at such an upper-class event before!
Carnival
In 1899 carnival possessed none of the current formalities; at the time it was little more than unorganised partying or even riots in the streets. So, Chiquinha Gonzaga composed Ó Abre Alas (Oh Make Way), as the first ever carnival march, instantly embraced as the official parade music. She established the tradition of carnival music, simultaneously giving birth to a musical genre and a cultural tradition envied the world over. Today carnival is synonymous with wonderful festive music and owes everything to Gonzaga. Thousands of recordings of Ó Abre Alas now exist as well as regular performances throughout Brazil and globally.
Legacy in Brazil
There isn't a Brazilian alive who is unfamiliar with the songs Gaúcho or Atraente. In 1985 television channel Redo Globo launched their network with a production of Forrobodó, and in 1999 they aired a series of 38 episodes based on Chiquinha Gonzaga's life and work. In 2012 Brazil established the National Day of Brazilian Popular Music, a holiday celebrated on Chiquinha Gonzaga's birthday – October 17th, in recognition of her enormous impact upon music in Brazil.
The television series has been condensed into four episodes and is available on Facebook, where you can select subtitles in a range of languages.  We hope this is symbolic of Gonzaga's influence spreading over the world!
References
ChiquinhaGonzaga.com a Brazilian website run by Wandrei Braga
Dissertation: A Pedagogical Approach to the Waltzes and Tangos for Piano by Francisca Gonzaga. Ana Paula Machado Simoes. 2018.
Dissertation: Chiquinha Gonzaga, Brazilian Musical Trailblazer. Silvanio Reis. 2019.
Performance Materials
Ó Abre Alas: Chamber orchestra arrangement. Score & Parts
Gaucho- Corta Jaca: Chamber music arrangement – Score & Parts
Forrobodó: Piano Reduction arrangement