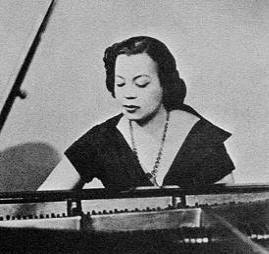 Happy 103rd birthday to American pianist and composer Margaret Bonds!
Born and raised in Chicago, Bonds showed an early aptitude for music and composition.  She pursued formal education in music, studying at Northwestern University and Juilliard.  She then sought composition lessons from Nadia Boulanger (who, reportedly, reviewed one of her works and felt that Bonds needed no further instruction and would not teach her).
Bonds was actively involved in promoting the works of black classical composers, including being a member of the National Association of Negro Musicians, and forming the Margaret Bonds Chamber Society.  Her career is notable for her achievements as both a composer and a pianist – including performing the work of Florence Price.
Bonds oeuvre includes many notable large form works for orchestra and choir.  Many of the texts that she included in her vocal works, including The Negro Speaks of Rivers (the work that Bonds shared with Boulanger) were by Langston Hughes.  Listen to the work below!
And be sure to download the March Calendar!