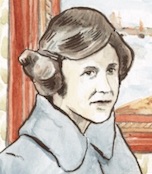 Happy 111th birthday to American composer Julia Smith (1905-1989)!  Born in Texas, Smith was a graduate of the University of North Texas College of Music, Juilliard School, and New York University.
Smith's best remembered compositional output was her operas and works for orchestra.  In addition to her work in musicology, including publications on the life and work of Aaron Copland and editing a directory of American women composers, Smith was also an active and accomplished pianist.
Smith's papers are available at the University of North Texas Music Library.
Listen below to Smith's Quartet for Strings: