Note from Liane Curtis — as professional musicologist, I've been researching women composers for over 30 years.  So every time I learn about a composer I haven't heard of, I am reminded that we still have so much we need to do!  Our culture tended to marginalize women for so many decades and centuries (of course it continues, we have to say in the US in light of recent Supreme Court decisions); therefore we have many composers we still need to recognize, research and explore.  And in the case of those of us in the west — western Europe and North America — we really tend to forget about or not notice many wide swathes of the world — even a country of so much musical richness and history as Kazakhstan.  Of course when I was "growing up" it was part of the Soviet Union, and not a country we heard about at all.  So, three cheers to Elizabeth de Brito for bringing Gaziza Zhubanova to our attention!  And will Zhubanova's music be coming soon to an orchestra near you? Let's hope so!
By Elizabeth de Brito
Gaziza Zhubanova  (1927 –1993)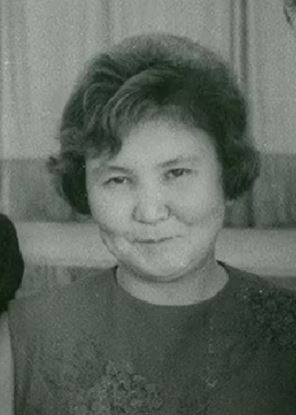 Gaziza Zhubanova (Kazakh – Ғазиза Жұбанова, Russian Газиза Жубанова) – a name revered in Kazakhstan as the first female Kazakh composer, leader of the national composer school and a significant influence on the development of Kazakh classical music, both through her own compositions and as a teacher and professor to the next generation.
Early Life & Career
Part of a musical dynasty, as daughter to the eminent composer and folk collector Ahkmet Zhubanov, she grew up surrounded by folk music, from an early age composing in front of the piano whilst wearing her Dad's pyjamas. After flourishing at Moscow's Gnessin Music College (whose alumni include pianist Evgeny Kissin & composer Alla Pavlova) she studied composition at the Moscow Conservatoire. Upon returning to Kazakhstan, Zhubanova began her long career teaching at Almaty Conservatory (now Kazakh National Conservatory, in the largest city, Almaty), in 1975 becoming its di, a position she would hold until her retirement in 1987.
Her Music
Gaziza Zhubanova's compositions represents the point where Western classical and Kazakh folk music unite, their synthesis creating music of astonishing depth and beauty. "It is necessary for a composer to master deep knowledge of national culture, to absorb folklore with his soul." Her own words reveal her deep affinity with folk music. Folklore infused everything she wrote, from basing choral works on Kazakh legend (her graduation thesis "Booming in the Night" inspired by the 1916 Kazakh revolt against autocratic rule), quoting folk songs in all her work, even including the dombra (a Kazakh national instrument) in her 1978 oratorio 'Letter of Lenin'. Zhubanova's works include three operas, four ballets, three symphonies, six oratorios, five cantatas, various piano pieces, chamber music, film scores – pretty much every genre of classical music.
Zhubanova possessed an extraordinary ability to develop ancient folk music within a contemporary framework, linking to the past whilst also highly attuned to issues of the day. Her ballet 'Hiroshima' (1965) confronts the pain of the Japanese people after the horrific attack. In 1966, another ballet, 'The Earth, The Moon and the Sputnik', saw her collaborate with the Kazakh Song and Dance Company. Her music also draws on the Soviet ideology at the time, with 1955's 'Ode to the Communist Party'. In addition, her trilogy on Lenin proved popular – the 1969 oratorio 'Lenin', the cantatas 'Lenin with us' from 1970 and 'Letter of Lenin' from 1978.
Violin Concerto
Gaziza Zhubanova wrote her violin concerto in 1957, according to Aisha Dossumova's dissertation [1] it's the second-ever Kazakh violin concerto and one of the most enduringly popular violin works in Kazakhstan. The violin is at once buoyant and expansive, seeking to express the dombra style (the dombra is a long-necked lute, strummed or plucked), with the lower strings conveying the qyl qobyz (Turkic bowed string instrument)
The folk style is ever-present in the sounds, intonations and themes. The frequent use of perfect fourth intervals is a classic signature of Kazakh folk music, along with the use of Dorian and Phrygian modes. The second theme features intonations from the "Shirag-au" ("My Light") folk song, whilst the second movement Intermezzo uses themes from Ykhlas 'qobyz kui Erden'. (Kui's are Kazakh folk songs).
Russian violinist Mark Lubotsky premiered the work in 1958 (again detailed in Aisha Dossumova's thesis) however details of further performances are difficult to find for this Western scholar, even after several hours translating (with Google) back and forth between Russian, Kazakh and English. Also in 1958, Lubotsky recorded the work with the State Symphony Orchestra of the Kazakh SSR. Originally released on vinyl, now here in the West it's seemingly only available on YouTube.
With that in mind, any Russian or Kazakh speakers reading this please get in touch, if you you have more information about this piece. All we know is that it sounds incredible, and we want more people to access the score and program it!
Symphony No. 1 (Zhiger)
The first of three symphonies Zhubanova wrote, the alternative title 'Zhiger' means energy, and is dedicated to her father. Written three years after his death in 1968, the symphony represents the composer at the zenith of her creativity. Her grief emotes in this mighty work, encapsulating both a dramatic narrative of her father's life and an expression of her love for him. Like her other work, 'Zhiger' makes frequent use of Kazakh folk idioms and intonations but also hints of the Western avant garde.
The Kazakh SSR State Symphony Orchestra recorded the piece in 1976 on vinyl, also only available to Westerners via YouTube. A dedicated Zhubanova website proclaims Zhubanova's work was digitised in 2012, in a series of three albums. However, I can only find evidence for the 1st album so far, on Discogs, and none commercially available in the West.
I can't get my hands on a score anywhere yet, however Worldcat records reveal copies are kept at University of Toronto, Cornell and Northwestern Universities in the USA and Royal College of Music in the UK! All these are prestigious musical institutions so why are they not programming it? If you are associated with one of these universities, please ask them to dust it off and program this brilliant piece!
Legacy in Kazakhstan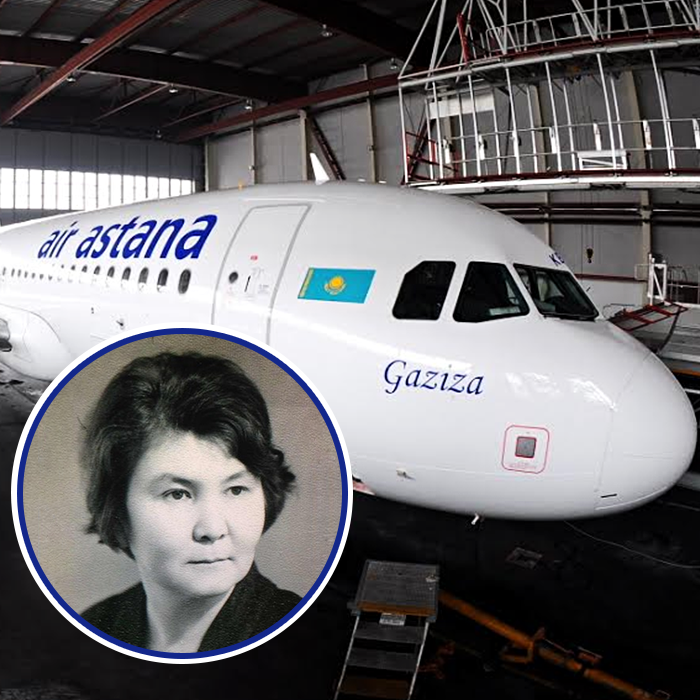 An adored cultural figure, Gaziza Zhubanova received the People's Artist of the USSR award in 1981. Even now Gaziza Zhubanova's influence can be seen all over her native Kazakhstan: in Gaziza Zhubanova Street; the Regional Philharmonic Orchestra of Gaziza Zhubanova in Aktobe, and the Gaziza Zhubanova State String Quartet both bear her name. (The Gaziza Zhubanova String Quartet recorded her two breath-taking string quartets from 1952 and 1990 on their 2017 album Kazakh Classical Music, the only commercial, easily accessible recording of Zhubanova here in the West).  Air Astana even named an aircraft after her! How insanely cool is that?!
In this, her 95th anniversary year, several concerts in Kazakhstan celebrated her achievements and legacy, including Astana Opera and Aktobe Regional Philharmonic on May 26th.
Challenges to accessing information
As I've mentioned, this article needed copious use of Google Translate, back and forth in both Russian and Kazakh. This really highlights the difficulty in obtaining concrete information about the composer, not to mention scores and performing materials. In Zhubanova's case there are no easily accessible scores available in the West. This is not just about Zhubanova but all Greek, Russian and Asian composers. For non-fluent speakers, it is a hard, complex process to access information written in alphabets other than Latin.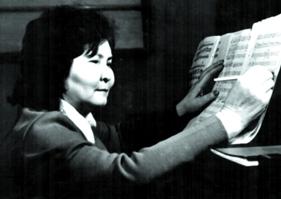 It also highlights the existence of so many pieces by women, available in libraries all over the world, if only curators would spend some time working to bring such unknown jewels of their collections to the attention of musicians who could play them. Music is meant to be performed, to be experienced and enjoyed, not stuck in some shelf in a dusty old archive, far from public eyes and ears.
If anything, I hope this article has highlighted the difficulty of the alphabet barrier, the East/West divisions in musicology and encourages further research into this extraordinary composer. Please check out the resources below and get in contact with us if you plan to program Zhubanova, we'd love to hear about any other features — let's spread the word!
N.B.  Some of these English translations may not be 100% accurate. Different translations exist on various websites.
Further Information
Commercial Recordings uploaded to YouTube
Symphony No. 2 (Island of the Women)
Symphony No. 3 (Sarozek Metaphors)
Piano Rare Scores: Collection of Solo Piano Works available to purchase
Zhubanova website (Text mostly in Russian, biography in English)
Worldcat (Worldwide Library Catalogue) Page on Zhubanova
Selected Bibliography
Dissertation: The Influence of Kazkh Folklore on the Development of Violin Performance in Kazkhstan – A Monograph Submitted to the Temple University Graduate Board In partial fulfillment of the Requirements for the Degree Doctor of Musical Arts by Aisha Dossumova May, 2016. Temple University.
Essay: The image of A.K. Zhubanova in the symphony No. 1 "Zhiger" by G. Zhubanova (Text in Russian) English Google Translate Version
Essay: Research work "Gaziza Akhmetovna Zhubanova" the first female composer of the Republic of Kazakhstan (Text in Russian) English Google Translate Version
Saryn Art and Science Journal 2018: Composition Techniques in the creative process of Gaziza Zhubanova (PDF – Text in Russian)
Dilara Karekenova: Theme Women in G. Zhubanova's Oratorios (PDF – Text in English, from the Conservatory of Music in Azerbaijan)
Karekenova, Dilara. "Impact of Gaziza Zhubanova's oratorios on modern Kazakh choral culture". Central Asian Journal of Art Studies, Vol. 6, No. 3, 2021, pp. 108–120 (PDF – Text in Russian)
Musicnews.kz Article: Cultural, aesthetic and musical origins and interactions in the work of G.A. Zhubanova (Text in Russian) English Google Translate Version
Wreferat Biography and Partial List of Works (Text in Russian) English Google Translate Version