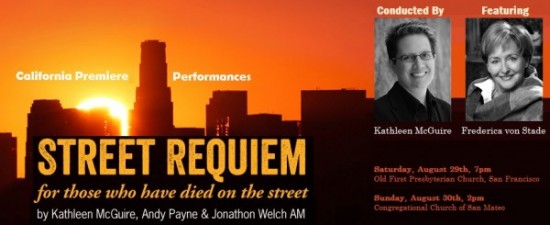 We wrote about this fantastic project in January when the work received its U.S. Premiere.  The Cantata,which addressed topics of homelessness and street violence, is an impressive undertaking and seemingly builds community wherever it is presented.  As we saw earlier this year, the work, which requires an orchestra and several choirs, as well as soloists, becomes a passion project for everyone involved.  The California performance, like the Dallas premiere, will feature world-reknowned opera star Frederica von Stade.
The powerful work was a collaboration among Kathleen McGuire, Andy Payne, and Jonathan Welch.  The San Francisco Bay Times wrote a feature on the upcoming performances, which will take place on August 29 in San Francisco and August 30 in San Mateo in which McGuire is quoted as saying:
Street Requiem provides an opportunity to mourn those we've lost—often 'nameless' on our streets—and to protest the tragic injustices we witness every day. These are global issues, but we can each make a difference, one by one. Ms. von Stade's generous participation is a testament to the importance of this project and the wider cause.
These concerts will be a benefit for Singers of the Street, a choir that McGuire began in 2010 of individuals who have experienced, or are at risk of, homelessness.
NPR covered the story of the work and the premiere in February – listen in here to get a sense of the power of this piece and the lives that it has touched:
Learn more on the Street Requiem website, and keep informed as to new developments and performances on the FaceBook Page.