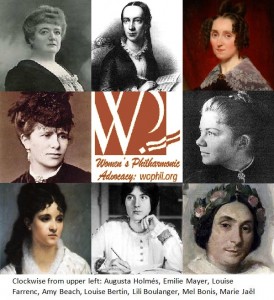 The 2015-2016 concert season is now underway for ensembles across the United States – which means it's also time to take a look at the orchestral repertoire that is being performed.
As we wait for the official repertoire reports from the League of American Orchestras (which, unfortunately, will be a while – the last available reports are from the 2010-2011 concert season) we took a look at what some of the most highly regarded ensembles in the United States are performing this year.  (We used the same list of ensembles that the Baltimore Orchestra used for their infographic published last year and followed the same methodology in looking only at events published in promotional materials/on their website for the regular concert season – we did not count chamber works, special events/galas, or pops concerts).
Of the 21 ensembles we looked at:
10 did not program any works by women in their regular symphony programming:
Cleveland Orchestra, National Symphony Orchestra, Los Angeles Philharmonic, New York Philharmonic, Philadelphia Orchestra, Pittsburgh Symphony Orchestra, San Francisco Symphony, Seattle Symphony Orchestra, St. Louis Symphony, Utah Symphony
11 included at least one work by a living composer; the composers are:
6 ensembles programmed more than one work by a woman composer
Baltimore Symphony Orchestra, Boston Symphony Orchestra, Chicago Symphony Orchestra, Houston Symphony, Minnesota Orchestra, San Diego Symphony
2 ensembles programmed three works by women composers
The Minnesota Orchestra –  featuring Kirsten Broberg and Emily Cooley in their Composers Institute concert in January, and performing Higdon's Viola Concerto in April.
The Baltimore Symphony – performing a work by Victoria Borisova-Ollas in April, and new commissions by Joan Tower and Anna Clyne in May.
a total of 18 different works by women composers will be heard
The composers with the most works being performed are Anna Clyne, Gabriela Lena Frank, and Jennifer Higdon, each having three works heard.
Jennifer Higdon's Blue Cathedral is the only work being performed by more than one ensemble.
6 works are commissions receiving a world and/or American premiere
It is wonderful and encouraging to see, even in this small sample, that contemporary composers generally, and women in particular, are receiving commissions and being performed in the "top" ensembles  However, we must not ignore that these commissions are only part of the story.
0 [ZERO] works by historic women are programmed
As one of my favorite sayings goes, "We haven't come a long way – and don't call me 'baby'."  There is, clearly, still a tremendous amount of work to be done to inspire and encourage conductors, artistic directors, and orchestra administrations that the best thing they can do for their ensembles to increase attendance and enthusiasm for classical music is to present a diverse, innovative, and inclusive season of programming.
I hope everyone encourages their favorite ensembles to "think outside the Bachs"  (and  the rest of the deceased Caucasian males whose sanctified names provide the rigid tradition of the canon) and instead enliven their programming by presenting a more complete picture of music history.  WPA would love to help any ensemble as they look to expand their repertoire – applications for our Performance Grants are being accepted through October 15, so there is still time to apply for funding!