From: Liane Curtis (President), and Sarah Baer (Director of Research), Women's Philharmonic Advocacy
Women's Philharmonic Advocacy is delighted to announce the five winners for the their revised grant program:
Akron Symphony Orchestra
Chamber Orchestra of the Springs (Colorado) 
Chicago Youth Symphony Orchestras
Portland Youth Philharmonic (Oregon)
Seattle Collaborative Orchestra
WPA looks forward to working with each ensemble over the next three years to continue to develop their already strong commitment to the performance of works by diverse composers, especially women and BIPOC. The long-term commitment will allow the grant winners to engage directly with experts on the WPA staff and Board.  The ensembles will receive a total of $5,000 over the three years, and explore ways to reconsider their programming, engage new audiences, and demonstrate the truly diverse history and future of classical music. 
 The winning orchestras – two professional, two youth, and one a hybrid blend of professional, community and youth – themselves represent a range of organizations as well as varied geographic locations.  
To highlight a few of the outstanding approaches of the winners: 
The Akron Symphony Orchestra has engaged in a monumental project of uncovering the music of composer Julia Perry (1924-1979) who lived much of her life in Akron. By revealing and performing this amazing "hidden figure," they emphasize that Black Lives do indeed Matter, a realization that is bound to have waves of positive impact on the entire community.  
The Portland Youth Philharmonic has an impressive record of programming large-scale works by women, such as their performance of Amy Beach's Symphony in E minor op. 32 (Gaelic). In the past five years PYP has programmed five major symphonic works by women as the primary centerpiece of the concert.  A pandemic project was an innovative commissioning program of 30 new works by people of color and women, for small ensembles that could be performed and recorded remotely.  
Chicago Youth Symphony Orchestras have an impressive commitment to a diverse range of repertoire, including historic rarities such as Emilie Mayer: Symphony No. 7 in F Minor, I. Allegro agitato (1856)  – Mayer's music is just beginning to be discovered in the U.S.  They also have a strong program of performing new works and commissions, and performed the Midwest premiere of Vivian Fung's Trumpet Concerto, a work written for alum Mary Elizabeth Bowden.
Chamber Orchestra of the Springs will be celebrating their 40th season in 2023-24, and have shown a deep commitment to diverse repertoire throughout their history.  In addition to programming at least one historic or contemporary work by a woman per concert, the organization is committed to accessible programming, offering a "pay what you can" model, to remove the financial barrier to accessing great music.  
Seattle Collaborative Orchestra  offers a new model for what orchestral ensembles can be – diverse, multigenerational, and an educational opportunity for seasoned professionals as well as those early in their careers.  Founded by conductor Dr. Anna Edwards, in response to the lack of diversity in repertoire and in musicians, the ensemble regularly features works by up-and-coming composers, works by underrepresented historic composers, and promotes diversity and equity in all aspects of the organization.  
Women's Philharmonic Advocacy (WPA), a non-profit organization striving to level the playing field for women composers, renewed their Performance Grant program in the fall of 2022 after taking several years off due to the Covid-19 pandemic.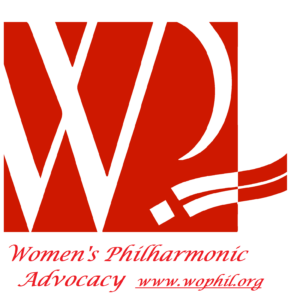 The grant program was established in 2012 as a means to encourage orchestral ensembles to perform more works by women composers. Professional, community, and youth ensembles were encouraged to apply and receive funding. The original grants, which ranged from $500 to $1000, were available yearly and were intended to cover the costs associated with performing unfamiliar music, including  the purchase or rental of music, and increasing educational outreach to new audiences. Hundreds of ensembles across the country were awarded funding, performing a multitude of works by historic and contemporary women composers.  (Learn about our 2019, 2018, 2017,  2016, and 2015 Performance Grant  winners.)
Due to the Covid-19 pandemic and the uncertainty of performing arts at the time, our Grant Program was placed on hold. We commend the ensembles that continued to find ways to make music, presenting virtual and live-streamed performances to share their work and this valuable repertoire.  
In those uncertain times the WPA Board of Directors reevaluated the role of this grant program, particularly in light of  the #MeToo and Black Lives Matter movements. A decision was made to move from supporting one-off performances to offering more substantial awards. The ensembles committed to a three-year period to address systemic changes in equitable programing, and methods of outreach.
Applications for WPA Performance Grants will open again in the Fall of 2023, with funding to support five ensembles for the three-year period of the 2024-2025 through 2026-2027 concert seasons.  More information can be found on WPA's website or by contacting Sarah Baer at [email protected].