Women scored top honors in two of the coveted orchestral categories recently awarded by the American Prize.
Leading the way, Michigan Philharmonic maestro Nan Harrison Washburn, formerly the co-founder and artistic director of the Women's Philharmonic, was named the 2013 winner of the professional Orchestra Conducting division.  Michigan Philharmonic was also a runner-up in the  professional Orchestral Performance category.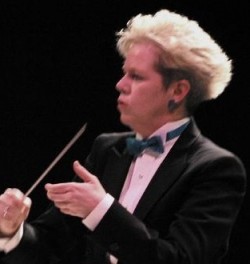 Founded in 2009 and awarded annually, the American Prize is a series of national competitions designed to recognize the best recorded performances by ensembles and individuals each year at the professional, college/university, church, community and secondary school levels.  In announcing Washburn's award the judges wrote "These recordings confirm [her] excellent reputation…Her performances are sensitive, thoughtful, serious, gracious–words that mark her self-evident musicality."
In June of this year Washburn won her 18th ASCAP Award for Adventurous Programming of Contemporary Music by the League of American Orchestras.  She will continue her innovative programming when she opens the Michigan Philharmonic's 2013-14 season on October 6 with Chen Yi's The Golden Flute Concerto for Flute and Orchestra (1997).
Florida's Alessandra Salvati brought home the professional prize for Composition (Orchestra) with her Tektosyne: Three Architectures for Orchestra. Born in Naples, Italy, where she trained as a pianist and composer, Salvati moved to the United States in 2009 where she continued to write for symphonic orchestra, chamber ensemble and theater.  The American Prize judges stated that "The Three Architectures for Orchestra is a monumental, richly orchestrated work, a sonic landscape, taking a listener on a journey of time and space."

Congratulations also go to WPA Performance Grant recipient Columbia Orchestra's Jason Love for winning the 2013 American Prize in Orchestral Programming.  Judges praised Love as a "courageous programmer with a clear vision for his audience and his ensemble."