Meredith Monk is one of the most recognized – and recognizable – American composers working today.  Her work is acclaimed, and unorthodox.  Recognition for her achievements have included commissions, residencies, and numerous awards – now including the National Medal of Arts.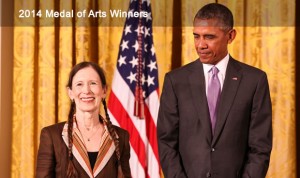 From the National Endowment for the Arts website, Monk was honored:
for her contributions as a composer, singer, and performer. Renowned for her groundbreaking vocal techniques, Ms. Monk has reimagined the instrument of voice with her innovative work.
This is no small achievement for any artist.  Monk joins several other notable composers as award winners including: Elliott Carter (1985), Aaron Copland (1986), William Schuman (1987), Virgil Thomson (1988), David Diamond (1995), Eduardo "Lalo" Guerrero (1996), Stephen Sondheim (1996), Carlisle Floyd (2004), William Bolcom (2006), Morten Lauridsen (2007), and John Williams (2009).  She is the first female composer to be awarded a National Medal of Arts.
There is no lack of great resources to turn to when looking for more information about Monk.  CBS Sunday Morning did an interview with Monk right after the announcement and discussed her early years, the development of her music, and her goals as an artist.  Check out The Guardian's guide to her music, and the New York Times piece that ran last year in honor of her 50th year creating music.
Monk was also featured on the WQXR podcast Meet the Composer this past June:

And listen below to an interview Monk gave for the podcast On Being: