If a work by a female composer is actually programmed by a major metropolitan orchestra, but that city's most respected and widely-circulated newspaper fails to mention it, do we have progress?
The Boston Symphony Orchestra will perform Sofia Gubaidulina's violin concerto Offertorium in November 2014 as part of conductor Andris Nelsons' inaugural season. Readers of Boston's paper of record would not know this, however, because The Boston Globe failed to mention Gubaidulina's name in a fairly comprehensive article covering the announcement of the BSO's 2014-15 season. But it did mention Shostakovich (a mentor to her), Sibelius (whose Symphony No. 2 will share billing with her), as well as Beethoven, Bruckner, Rachmaninoff, Mahler, Strauss, etc.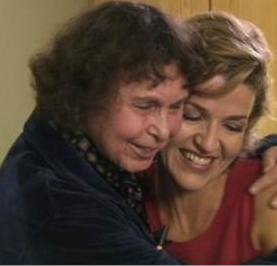 This despite the fact that Gubaidulina is one of the most prolific and honored living composers, having recently been named the recipient of Venice Biennale's Golden Lion for Lifetime Achievement for Music. And despite the fact that Nelsons actually took time to mention the special relationship between the BSO and Gubaidulina at his much-ballyhooed live-streamed press conference. Written in 1980 and revised in 1986, the concerto not only had its US premiere in Boston as part of a Soviet-American music festival called Making Music Together, it was also recorded by the BSO, with Gidon Kremer on violin.
No matter. Gubaidulina has survived far worse than a snub by a newspaper during her career. Born into Soviet Russia, of Slavic and Tartar descent, she gravitated toward modern forms, despite an abiding passion for J.S. Bach. Her explorations of alternate tunings while a student in Moscow were deemed 'irresponsible,' though she was encouraged to continue on her path by Dmitri Shostakovich. She found a safe haven for her modernism by composing scores for documentary films, but by 1979 was blacklisted for participation in some Western Soviet music festivals. Her home was ransacked by the KGB, and at one point she was nearly strangled to death by a stranger who may have been a KGB agent.
Ironically, Gubaidulina found artistic freedom in her censure, saying "I could write what I wanted to write, without compromise." Much of what she wanted to write was religious in theme—at odds, of course, with the official atheism of the communist state. But Gubaidulina worked from her own definition of religion:
" I am a religious Russian Orthodox person and I understand 'religion' in the literal meaning of the word, as 're-ligio', that is to say the restoration of connections, the restoration of the 'legato' of life. There is no more serious task for music than this." 
Always dramatic, her work fluctuates musically between two extremes: on the one hand highly improvisatory, as in Garden of Joys and Sorrows for flute, viola and harp; and on the other strictly organized, utilizing pitch clusters and mathematical Fibonacci sequencing.
An aural tasting of Gubaidulina's work may be found here. To contextualize that work, watch this 1990 BBC documentary which features the composer in her own words: