Maria Schneider has a knack for choosing to work in musical genres where women have traditionally been least represented and recognized—and then flipping the script to win all kinds of renown and accolade.
As a jazz composer and big-band leader, Schneider has been voted  Best Composer and Best Arranger for an unprecedented eight consecutive years (2005-2012) by DownBeat magazine's annual critics' poll.  Her 2004 album Concert in the Garden won a Grammy for Best Large Jazz Ensemble Album, and was also the first fan-funded album sold exclusively on the internet to win a Grammy in any category.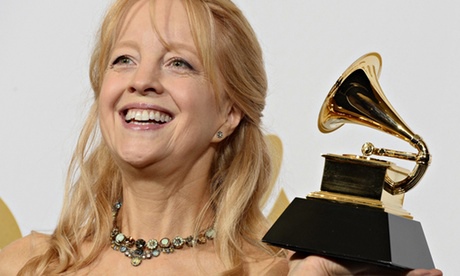 But this past January she conquered a new genre, winning Best Classical Contemporary Composition for Winter Morning Walks, which features legendary soprano Dawn Upshaw (who also took home a Grammy for her vocal performance) and the Australian and Saint Paul Chamber Orchestras.  The two song cycles are based on poetry by fellow Minnesotan and US Poet Laureate Ted Kooser and Brazilian Carlos Drummond de Adrade.
Schneider's segue to classical music is less surprising when one listens to her jazz orchestrations.  After completing a Master's at the Eastman School of Music, she went on to become the protégé of jazz luminaries Gil Evans and Bob Brookmeyer.  Assisting Evans she saw the jazz color palette extended to include French horns, oboes and flutes.  Schneider formed her own big band in 1993 in New York and began playing what she calls "jazz chamber music."  Much of that music would be through-composed, with broad arcs, rather than the choppier style of big band jazz that bounces from soloist to soloist.
Her rich melodic lines and airy arrangements have been compared to Copland, while her intricate textures recall Ravel and Debussy.  Nevertheless, Schneider claimed she was initially 'terrified' of writing specifically for the classical genre, citing her painful experience as a student as Eastman in classical composition classes that emphasized atonality and the cerebral, and ultimately caused her to flee to jazz.
She was, of course, the only woman in her program studying jazz composition.  If one types in the search terms "female jazz…" Google suggests the following:  singers, songs, musicians, guitarists, bassists, drummers, and even trumpet players.  It does not, however, suggest "composer."  Such are the heavy currents Schneider has swum against throughout her career.  For a time she was so busy she didn't really notice:
"I was already, I think, 32 years old before I really even thought about that. And then I had to go back and think, wait a minute, I was the only girl doing this in college and writing for big band. I mean, it wasn't just composition, it was jazz composition, which is maybe even more male, you know, dominated, or whatever you want to say, or peopled with men or something. And I think the reason was because my first mentor was a woman…"
She goes on, in this candid Big Think interview, to conjecture that music is slowly becoming less male-dominated, but that from an early age girls are still not being given the same encouragement to create as boys.