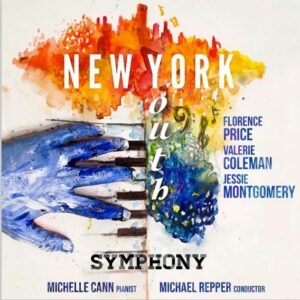 GREAT NEWS!  A groundbreaking project is receiving deserved recognition!  The New York Youth Symphony turned the limitations of the pandemic — musicians all in lockdown — into an opportunity to record a new CD, which was released in spring of 2022.  This was (as so much during the pandemic) unprecedented:  110 young musicians recording remotely.  The contents of the recording are also something that might have been unexpected a decade ago  — three Black women composers: Florence Price, Valerie Coleman and Jessie Montgomery!  Their presence on this recording demonstrates the commitment to representing diversity in both contemporary and historic composers, as well as showcasing the excellence of previously neglected repertoire.  Shortly after its release, the album hit #2 on the Traditional Classical Album Billboard chart.  And now we are thrilled that it has been nominated for a Grammy! It is a first for a youth symphony to be nominated in this highly competitive category ("Best Orchestral Performance").  Also, the NYYS was a recipient of a Women's Philharmonic Advocacy Performance Grant!  Now as we work on evaluating our 2022 Grant application pool, we are very moved and proud to have this reminder of the impact of our support.  Here's the story on Spectrum News NY1 and on the NYYS web page, AND where to buy a CD.
We are happy to see other living women composers represented in the Grammy nominations, including Germaine Franco (the first woman to score a Disney animated feature film, with Encanto), as well as Sofia Gubaidulina, Caroline Shaw, Rhiannon Giddens, Rachael Portman, and Jennifer Higdon, as well as a wide range of composers of color who are not known to be women. But sadly, no historic women apart from Florence Price have been included!  But don't worry, there's plenty of Beethoven, Bach, Brahms, and John Williams  (insert eyeroll emoji…)

And did you see our recent posts — "Elizabeth Recommends" — 7 Exciting piano concertos you should know, and a review of the recent staging of  Ethel Smyth's The Wreckers, written by distinguished scholar Dr. Marcia Citron?
We hope your week is off to a great start!