Nkeiru Okoye was born in New York (1972), and growing up, frequently visited her father's native Nigeria.  She won a song-writing competition at age 13, and decided to study composition seriously.   She received degrees from the Oberlin Conservatory (BA) and Rutgers University (MA and Ph.D.).
I got to know Okoye's music through her work The Journey of Phillis Wheatley, for narrator and orchestra.  It was commissioned and performed by the Landmarks Orchestra of Boston, and recorded by the Moscow Symphony, led by the Landmarks Orchestra's late founder and director Charles Ansbacher.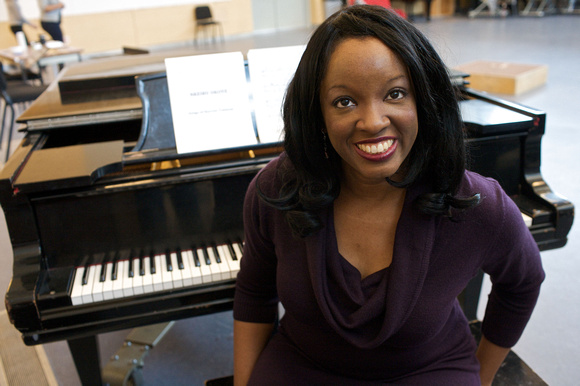 A narrator represents Phillis Wheatley, and different themes and musical instruments represent different characters and elements of the story. Her life in Senegal is  depicted, as is her kidnapping and being sold as a slave, getting used to her new life in Boston, and finally, becoming a successful and acclaimed poet. The musical themes are truly charming and combined very engaging way.  It's a lovely way for children to learn about the orchestra as well as about the poet Phillis Wheatley, her life and achievements.
More recently, Okoye has been writing a folk opera, Harriet Tubman: When I Crossed That Line To Freedom.  Its music is "rooted in traditional African-American folk idioms," according to Okoye. "There are elements of gospel, jazz, blues, and then you hear a 'field holler,' you hear ragtime, work songs and there are things that sound like spirituals throughout the opera."  The composer studied Tubman's life in detail and worked to write music that would be true to her experience.
Here is an article on how Okoye came to be an opera composer.  Here is Okoye's own website about the Harriet Tubman opera (includes audio clips), and here is an article about the opera.