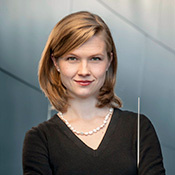 The Los Angeles Philharmonic has announced that Mirga Gražinytė-Tyla has been promoted from Assistant Conductor to Associate Conductor.  The LA Times has the story here.
Gražinytė-Tyla, Lithuanian by birth, was a Dudamel Fellow in the 2012-2013 season, after already making a name for herself by winning international conducting awards.  Her continued rise shouldn't be shocking to anyone who has watched her developing career.  She has received praise from Alex Ross in The New Yorker when conducting the LA Phil at the Hollywood Bowl, from Christopher Morley in the Birmingham Post when conducing the City of Birmingham Symphony Orchestra (UK), from Melinda Bagreen in The Seattle Times (when conducing the world premiere of Mason Bates' Cello Concerto), and from Mark Swed in The LA Times.
Be sure to read David Ng's profile from December 2014.
Here is a video of Gražinytė-Tyla in action conducting the rehearsal of Georg Druschetzky's Concerto for Oboe and Timpani: