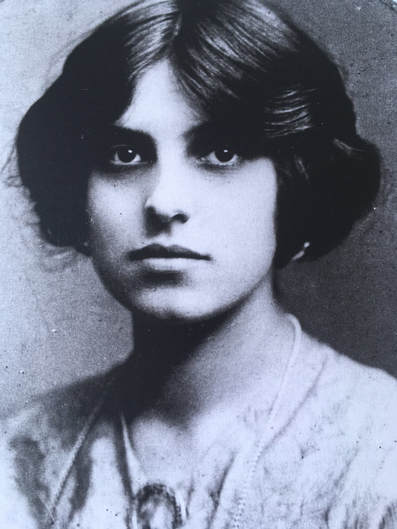 This week we are celebrating the life and music of Welsh composer Morfydd Owen, who was born October 1, 1891. A brilliant pianist, singer, and composer, Owen's tremendous oeuvre of work has been underperformed since her tragic death in 1918, when she was only 26 years old. As more of  Owen's works have gained the interest of scholars, we are delighted that there are contemporary editions of her music available, allowing the opportunity for upcoming performances. 
Born in Treforest, Glamorgan, Wales, to musical parents, Owen easily falls into the category of "child prodigy". It is said that she found her own way to the piano when she was just four years old, and began composing at the age of six. She was able to receive quite a bit of musical training in her lifetime, including studying at the Royal Academy of Music in London, where she is said to have won every prize offered at the end of her first year.  Included in those prizes was the Charles Lucas Silver Medal for her orchestral tone poem, Nocturne. (Have a listen below.)
She composed in numerous genres, including works for the stage, orchestra, chorus, as well as chamber and solo instruments. But it is her compositions for voice and piano that are regarded as most important. This is due, in part, to her works transcribing and arranging Welsh folk songs. One of the most beloved examples of her writing for voice and piano is "Gweddi y Pechadur" ("The Sinner's Prayer"). Her love for the genre was such that she trained as a professional singer, making her professional debut as a mezzo soprano at Aeolian Hall in 1917. 
Owen was known throughout London, and was popular in social circles that included D.H. Lawrence and Ezra Pound. She was widely popular and hardworking, leaving 250 scores in her 10 years of serious composition, many of which are available today through Oriana Publications. 
She was married in 1917 to a Freudian psycho-analyst, Ernest Jones, who disapproved of Owen performing in public. Her compositional output also declined as she served as her husband's secretary and proofreader, as well as meeting the expectations of attending to household tasks.  She wrote to her friend, Eliot Crawshay-Williams, on July 22, 1918:
Oh, dear! Married life doesn't seem to me to be quite the easiest thing to adapt oneself to, and has taken up all of my time. 
Owen died just six weeks later after an emergency appendectomy – the details of which continue to be surrounded by mystery. After her passing, her husband collected and published many of her works. However, her music was largely forgotten until musicologists once again brought it to light, and concert stages.
Morfydd Owen's legacy exists in the numerous scores that remain, which are preserved with her papers in the special archives at Cardiff University.  Learn more about Morfydd Owen through the work of Dr. Rhian Davies, who champions the work and legacy of this brilliant Welsh composer.