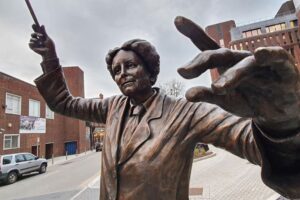 We hope you had an exciting International Women's Day!
March 8 revealed this statue of Dame Ethel Smyth, in the town of Woking, UK, where the great composer lived the last decades of her life.  Sculptor Christine Charlesworth presents Smyth "wearing her customary tweed skirt, enthusiastically conducting … her face full of concentration … In her hand she holds the baton presented to her at the Royal Albert Hall on 23 March 1911.  In her pocket is a sheet of notes for her latest memoir."  The grand baton shows Smyth's commitment, her determination to "lean in" – be assertive and not take any half-measures.  And we wonder —  is this the first sculpture as large-scale public art of a women composer? (…how many dozens of men there are….)  There's the bust of Clara Schumann in Baden Baden …. Any others? (Video of the actual unveiling is here)
We are eagerly awaiting Dr. Samantha Ege's new album, Black Renaissance Women – here's a preview.  And here's a related radio documentary from the BBC featuring Ege's research: Florence Price's Chicago and the Black Female Fellowship (available for a limited time).  AND Dr. Ege's IWD Lecture-Recital will stream March 25  at noon GMT. The event includes the UK premiere of Price's Piano Concerto in One Movement arranged for two pianos, performed with Dr Nicole Panizza.
We just discovered this new CD of music by Vítězslava Kaprálová, thanks to Dutch journalist Thea Derks, who has long championed Kaprálová and her music.  It is the first recording for some of this important music, including the Suite en miniature, Op. 1 (version for orchestra).
E4TT – Ensemble for These Times presents a series of interviews with BIPOC women composers of California for 2022.  Vivian Fung is the featured composer for March (PDF Press release).  The San Francisco ensemble's April 9 concert (available both streaming and live) features a premiere by Fung and new and recent music by eight others.
We always love to hear news that we have missed!  Be sure to let us know!  [email protected]