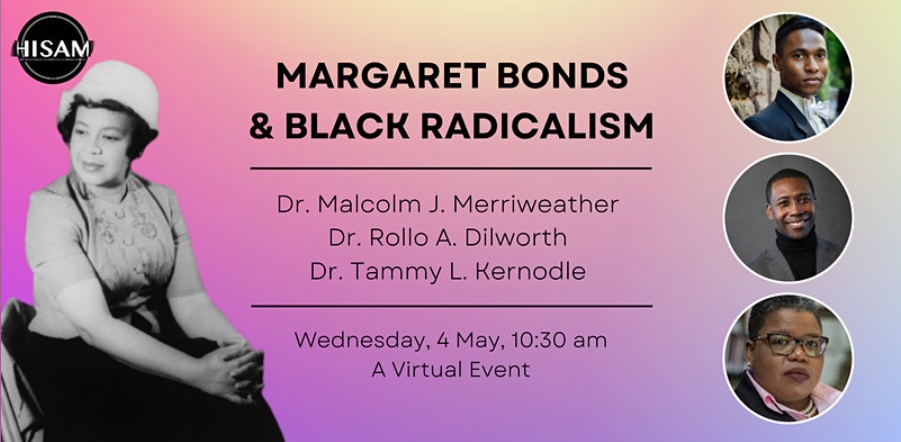 The rediscovery and exploration of important music by Margaret Bonds is continuing! Wed. May 4, 10:30 AM EDT:  Online presentation and discussion: "Margaret Bonds and Black Radicalism" with Dr. Malcolm J. Merriweather, Dr. Rollo A. Dilworth and Dr. Tammy L. Kernodle.  This event was filmed to complement the recent performance by the Dessoff Choirs (of NYC) of two Bonds Cantatas, "Credo" (text by W.E.B.DuBois), and "Simon Bore the Cross," and includes rehearsal footage.  Presented by The H. Wiley Hitchcock Institute for Studies in American Music. Free registration here
It's always exciting when the Proms programming is announced and we are thrilled that Dame Ethel Smyth will shine this year, with a concert performance of her opera The Wreckers, as well as her Mass in D, Concerto for Horn and Violin, piano trio, and songs. Other women composers are Kaija Saariaho and Doreen Carwithen (whose centenary is being celebrated) and Price, Mazoli, Jolas, Coleman and Canadian composer Cassandra Miller (the premiere of her viola concerto).
See the full program at BBC Proms Calendar  or you may prefer this format at classical-music.com.  —   We AREN'T complaining, BUT we do see plenty of concerts that still only include works by white men – isn't it really time for diversity and inclusion to ALWAYS be recognized?
The Kapralova Society Journal has released its special anniversary issue, celebrating 20 years! Features include renowned scholar-pianist Diana Ambache on French composers of the 19th c., and Dr. Anja Bunzel on women's role in musical culture in Czech lands of the 19th c., as well as much more!  Congratulations to the Kapralova Society for their sustained and significant contribution to recognizing women's work in classical music!
We hope you observed Earth Day, and wanted to note Joyce Di Donato's important artistic project, Eden, recognizing of climate change and the need to fell connected to and responsible for our planet.  Here's the story in the NYTimes.  The project includes music by Rachel Portman, and the 18th c. Polish composer Josef Mysliveček, as well as more familiar names.
So much news! Be sure to let us know what we missed! [email protected]