News and music to start your week!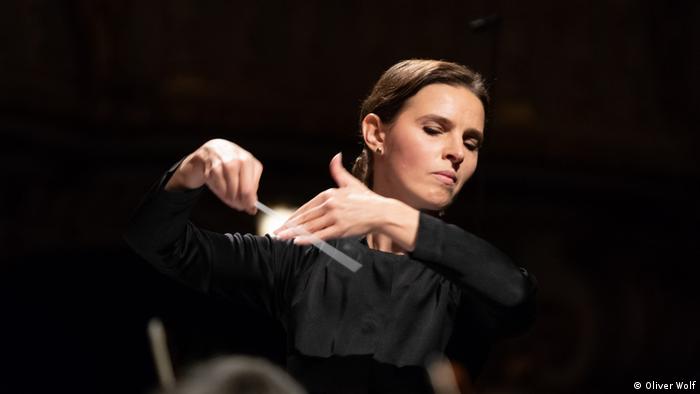 Congratulations go to conductor Oksana Lyniv, pictured above, who will be the first woman to lead the orchestra at the Bayreuth festival.  Learn more about her career and her experiences being the only woman studying conducting at the college in Lviv.  DW.com has the interview.
Opera Steamboat has also made the news by hiring only women conductors to lead ensembles throughout their season.  Included conductors are Maria Sensi Sellner, Emily Senturia, Dana Sadava, and Kristin Ditlow.  Next, we need to encourage Opera Steamboat to include operas by women composers!
The Royal Philharmonic Society has announced that they are expanding their program which seeks to educate and support rising female conductors.  First established in 2014, the program has provided performance opportunities to over 500 female conductors.  Learn more about how the program is growing at The Violin Channel. And the official Royal Philharmonic Society's page about the program is here.
Composer Dr. Adolphus Hailstork was presented with Five Questions by I Care If You Listen regarding the recent World Premiere of his Tulsa 1921 (Pity These Ashes, Pity This Dust).  The premiere performance, which took place on Juneteenth, was organized by The Greene Space at WNYC & WQXR and can be heard here. The performance also includes compositions by Jessie Montgomery, Alice Coltrane, and Trevor Weston.
The Virtual 2021 National Women's Music Festival takes place June 30-July 4, and includes the NWM Festival Orchestra (July 1), a 14-piece ensemble led by Music Director and Conductor Nan Washburn, and including music by historic and living composers: Marianna Martines, Alice Gomez, British composer Ethel Smyth, and film composer Rachel Portman.  A series of videos by the musicians invite you to experience the concert and Festival!  The Festival also includes (filmed) recitals of new music, including works by Cara Haxo, the winner of the 2022 NWMF Emerging Women Composers Competition.
ClassicalFM has another listicle celebrating LGBTQ+ conductors in honor of Pride Month.  Though most readers will already be familiar with Marin Alsop and Dame Ethel Smyth, the name Frieda Belinfante (1904-1995) is likely new to many.  Read on to learn about her career and watch a brief interview with the Dutch cellist and conductor.
We wrote last week about the end of Missy Mazzoli's tenure at The Chicago Symphony Orchestra.  The Chicago Classical Review has their take on the final performance of her MusicNOW composer-in-residence position.
And, finally, Classical FM shares some forgotten history of the star guitarist and composer Catharina Pratten, tutor to Queen Victoria's daughters.
What did we miss?  What are you reading?  Let us know at [email protected]