The Philadelphia Orchestra, led by Yannick Nézet Séguin, performs Florence Price's Symphony No. 3 in a Digital Stage performance on Wednesday, December 8.  The concert is then available for on-demand access until Dec. 15.  Also on the program is Amanda Harberg's Piccolo Concerto, with Erica Peel, soloist.
Florence Price is also in the news as a Grammy nominee!  Nézet Séguin and the Philadelphia Orchestra received the Best Orchestral Performance for Price's Symphonies Nos. 1 and 3.  Another notable Grammy nominee is Women Warriors – The Voices Of Change, featuring outstanding contemporary women composers, the Riga Cathedral Girls' Choir and conductors Aira Birzina and Amy Andersson.
I think we'll have more to report on the Grammy nominations — be sure to let us know what we are missing!
AND more on Florence Price:   6th, 7th and 8th grade students of the Kaufman Music Center, NYC, have written a book Who is Florence Price: Young Musicians Tell the Story of a Girl and her Music. NPR has the story.  (pictured)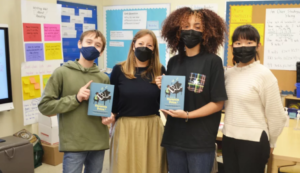 Marking its third anniversary, The Daffodil Perspective has published statistics about its radio show/podcast, emphasizing their outstanding commitment to diversity.  And they not only talk the talk, but also walk the walk!
Hannah Lash's recently premiered concerto for two harps (titled  The Peril of Dreams) receives a detailed and positive appraisal on the website Sequenza 21 (although the author has an annoying tendency to namedrop, and insists that he knows its "models").  Also mentioned is the other item on the program, Beach's Symphony op. 32 (Gaelic), which is inaccurately described as "Scottish inflected."  Beach's borrowed themes are Irish.  Another positive review to the Seattle Symphony concert is here.
Olga Neuwirth has won the 2022 Grawemeyer Award for Music Composition (which includes $100,000) for her opera Orlando. It was  premiered at the Vienna State Opera in December 2019—the first opera by a woman ever to be staged there.
OK!  We look forward to hearing from you!!  [email protected]