We are happy to report that the Met Opera's ongoing daily streams (offered in response to their cancelling the remainder of their season because of COVID-19) will feature a work by a woman, Kaija Saariaho's "L'amour de loin," on Wed. May 6.  Watch it on the Met website or through the Met App.  More info is here.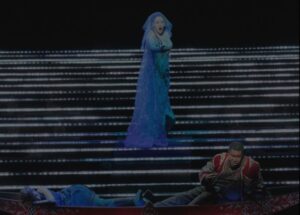 The 2016 Met premiere of Saariaho's 2000 opera provoked a great amount of celebration, both for its achievement as a moving work of modern opera, and also its symbolic role in women's history, as the first work by a woman to be produced by the Met in 112 years (the first being Ethel Smyth's Der Wald in 1903).
We at WPA marked the occasion with TWO podcasts (our first and still our only podcasts) — this one by journalist Naomi Lewin, in discussion with opera professional Cori Ellison. Ellison recounts discussing the plans for the opera with Saariaho in the 1980s!  And the second one (by composer Milica Paranosic ) engages opera-goers about their opinions and responses to Saariaho's work — and its position in breaking (or cracking) a glass ceiling — "It's about friggin' time!"  One theme that emerges is that opera-goers emphatically want to hear more than just the same old "standards."
We also published this 2014 intro to Saariaho and her music, which references a speech she gave in 2013, and stated "today, 30 years after my own battles, young women still have to experience much the same everyday discrimination I went through."  Saariaho seemed acutely aware of the issues that would emerge into stark relief with the #MeToo movement of 2018.  "L'amour de loin" is the only work by a woman composer in their repository of On-Demand video and audio library of the Met's past performances, because it is still the only work they have performed by a woman since 1903. But we are thrilled that it is being included in their free daily stream.
The Met offers this interview with the composer, made just before the 2016 premiere.  The production received positive reviews (such as this, on Operawire).