News to start your week?  But this last week was not just any week. For those in the US, the past week was something unique and critical.  On Thursday we listened to a woman's account of a violent sexual attack that she experienced. And we heard men — angry, hostile men — say we should not be listening to her.  Given these tumultuous events, one might wonder, can we really be thinking about music now?  But I cannot help but interpreting the proceedings as having a metaphorical meaning for the status of music history and the classical canon.  After all, not listening to women is a form of abuse.  Ignoring the creative output of the women of past centuries (as well as the present) – and to negate the existence of their music — is to be a perpetrator of the continued silencing and subjugation of women. Therefore, in classical music, as in all aspects of human existence, I'd like to simply say, it is time for women to demand they be heard, and it is time for everyone to listen.
OK, now to our "regular" news coverage!   Radio WQXR (New York City) spoke to eleven conductors about their "piece of a lifetime."  The conductors include JoAnn Falletta, Jane Glover, Sarah Ioannides, Jeri Lynne Johnson, Susanna Malkki, and Xian Zhang. Read on here.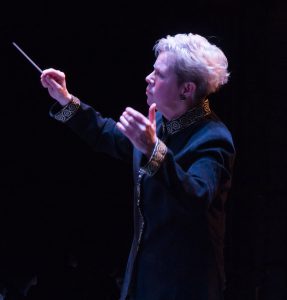 And another conductor in the news, The Michigan Philharmonic is celebrating the 20th anniversary of their Music Director / Conductor, Nan Washburn – this NANiversary celebration year features Nan's signature brilliant and diverse programming, brought to life with electrifying musicianship.  Nan is also a founding Board member of Women's Philharmonic Advocacy, as well as one of the founders The Women's Philharmonic. Learn about the growth and successes of The Michigan Philharmonic in this short video, and hear Maestro Washburn's philosophy, as she explains her goals of community engagement and building educational programming.  A detailed interview with Maestro Washburn (made in late 2017) explores her career in more detail.  You may not hear Nan use the phrase "women composers," but bringing in the work of a wide range music off the beaten path of "standard repertoire" — including new works, American music, and plenty  by women, is always part of her artistic practice. The season starts Fri. Oct. 5 with a concert that features violinist Danielle Belen, and a work by Wael Binali that addresses climate change. The Nov. 30 concert includes music by Libby Larsen and Lili Boulanger.  The Jan. 20 concert includes works by Peggy Glanville-Hicks and Whitney George, and also by the Afro-Caribbean contemporary of W.A. Mozart, the Chevalier de Saint Georges.

Musicologist Linda Shaver-Gleason writes a detailed consideration about white privilege in symphonic spaces, on her blog, Not Another Music History Cliché,  An important read.
Composer Betsy Jolas, at age 92, will have a work performed by The London Symphony Orchestra this coming season. We disagree with the iNews headline that Jolas is an "undiscovered" composer – she, and her works, are far from unknown, just underperformed!
We are saddened to hear about the death of composer American composer, flautist, and poet Katherine Hoover.  You can find her obituary online here.
We'd love to hear from you!  email us at [email protected]