Attending the "Curtis on Tour" concert on Sunday (which I reviewed here ), I had the opportunity to hear a newly composed work by Katerina Kramarchuk, a Curtis alumna.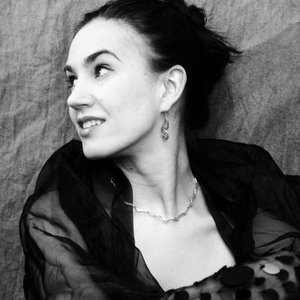 Katerina Kramarchuk is a "rising star" composer, adept in many areas of the current scene.  She composes concert music, music for films, and is a song composer in a more popular idiom. Finally, she performs her own music and the works of others as a pianist.
Born in Moldova in 1988, she moved with her family to the U.S. in 2002.  She studied at the Manhattan School, the Curtis Institute of Music, and currently studies at The Julliard School.  She has had a wide range of commissions and distinguished premieres, including the first ever commission by the Philadelphia Inquirer, as a part of their new media initiative in the arts.
Her website offers a range of her music, which varies but is always engaging.  They include the Trio for cello, clarinet and piano, a lyrical and evocative work; and an energetic quintet for saxophones, The Dniester Flow (2012), which depicts the energy—sometimes swirling, or powerful or lulling—of the Dniester River.  Her orchestral works are dramatic and make strong use of percussion and orchestral color.
A Ballet Suite for chamber ensemble, Reflections (2010),  is subtitled "(a.k.a 'Homage to Chopin')", but the two clips that are given remind me more of the propulsive drive of Stravinsky's The Rite of Spring!
Her music to the short film The Projectionist can be heard here. Her work as a singer-songwriter and jazz pianist can be heard here on Myspace and on Soundcloud.