Born and raised in Texas, Julia Smith (1905-1989) achieved acclaim as a composer, pianist, and musicologist – but is is perhaps best remembered for composing the music for the University of North Texas alma mater.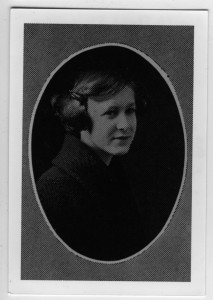 After graduating from UNT, Smith completed her graduate work at Juilliard and New York University.  She performed as a pianist in Orchestrette Classique, an all-woman chamber orchestra in New York City.  Later, she accepted a position at the Hartt School, where she founded the music education department.  Her scholarship focused on the life of Aaron Copland, but she also edited and published a Directory of American Woman Composers, with selected music for senior & junior clubs in 1970 through the national Federation of Music Clubs, suggesting her own activism in promoting underperformed works.  She also chaired the Decade of Women Committee from 1970-1979.
Among her numerous compositions, Smith is best known for her operas and orchestra works – all of which were performed in her lifetime, but have fallen to obscurity today.  Her talent was recognized in her lifetime, evident by her achievements and the numerous commissions that she Unfortunately, I was unable to find any recordings readily available online to share with you.
You can read her obituary printed in the New York Times here.