It's the spookiest time of year – and even beyond the costumes and candy, Halloween has become a reason to indulge in horror movies.  There are plenty of examples of classical music being used as film scores to some of the scariest films ever made (WQXR lists several here), but there is one composer whose contributions to the scary movie business far surpass the rest.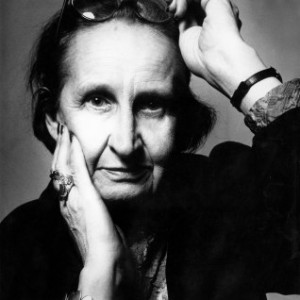 Elisabeth Lutyens (1906-1983) was a British composer who was fortunate to receive training and support from her family from a very young age.  After studying at the Royal College of Music, Lutyens began her career as a classical composer by experimenting with serialism – so much as to earn the title of "the mother of British serialism".  Her works were highly regarded, and she received high praise from Igor Stravinsky.  (More about their relationship can be read at a fantastic piece over at The Overgrown Path.)
Lutyens' work ranged from chamber works to opera, with plenty of works for orchestra, voice, and solo instruments in between.  She received numerous awards and commissions in her lifetime – but her work is rarely performed or recorded today.  In fact, I'm sure it is no stretch that her most remembered work are her numerous film scores.
As Lutyens struggled to find a place early in her career she found a place writing the scores and incidental music for documentaries and horror movies.  Though she never considered these works to be "serious" – done only to help pay the bills – and stopped composing for film as her other compositions received more attention and performances, her music for film is far more widely heard than any of her concert works.
Her page on IMDB lists all of her contributions, which include music to Dr. Terrors House of Horrors
and The Skull.
It is clear why her style was so perfect for the horror genre – her work with serialism, sparseness, and experimentation was perfect for these spine-tingling thrillers.  You can contrast the music in these films to what Lutyens would consider a more serious piece, her String Trio:
Read more about Lutyens' contributions to the horror genre on Horrorpedia and about her life and family at the Lutyens Trust.