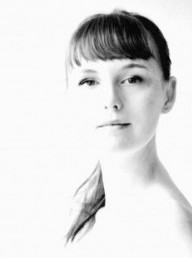 Today's Featured Guest Blogger is Canadian harpsichordist Katelyn Clark.  Clark specializes in the performance of historical repertoire and experimental music on early keyboard instruments. Currently, her research focuses on the London pianoforte school and the careers of late Enlightenment musicians. Clark has been an artist in residence at the Banff Centre, NES in Iceland, Artscape on Toronto Island, and was a fellow at OMI in the USA. She lives in Montréal, Québec.  She shares with us today some of her work uncovering the life and work of a forgotten composer. 
London Pianist and Composer Theresa Jansen (c. 1770-1843)
Theresa Jansen (mariée Bartolozzi) was a pianist, composer, and teacher active in London during the late eighteenth and early nineteenth centuries. Regarded as one of Muzio Clementi's finest students, Jansen composed and published several concert works for the pianoforte. Today, she is best known for her important connection to Joseph Haydn, especially for her role as dedicatee to many of Haydn's large-scale English piano works.
Little is known of Jansen's early life; the main source for biographical information is the anonymously written Memoirs of the Life, Public and Private Adventures, of Madame Vestris, an unauthorized account of Jansen's daughter, Lucia Elizabeth Vestris. According to these Memoirs, Jansen's family moved from Aachen to London in the 1780s, at the request of Earl Spencer and Lord Mulgrave. Jansen's father was a popular dancing master, and both Theresa and her brother, Louis, worked as dance instructors during their early years in London.
As Andrew Tuer notes, "Miss Janson [sic] was one of the most noted performers of her time on the pianoforte." Clearly this was reflected by her impressive musical connection to London colleagues, as she was the named dedicatee for many major English piano works during the 1790s. This includes Jan Ladislav Dussek's three Opus 13 sonatas for piano and violin (1790), Muzio Clementi's three Opus 33 piano sonatas (1794), and Joseph Haydn's sonata in C major Hoboken XVI: 50 (1794), sonata in E-flat major Hoboken XVI: 52 (1794), and trio sonatas Hoboken XV; 27-29 (1797).
In 1795, Jansen married engraver/violinist Gaetano Bartolozzi, the son of renowned portrait artist and engraver Francesco Bartolozzi. Notably, Haydn served as a witness at the wedding. Following the birth of Jansen's first child, Lucia Elizabeth, in 1797 was a period of instability and financial difficulty for the young Bartolozzis. By 1798, they had moved from London to a family property in Veneto, but were forced to leave soon thereafter because of the Napoleonic conflicts. The Bartolozzis returned to England by the end of 1799, after which time Jansen began to publish her piano works.
Jansen's compositions were unknown until recently, and consequently her position as a contributing member of the London pianoforte school has gone unrecognized.  I found several examples of Jansen's compositions during my doctoral research at McGill University, under the supervision of Tom Beghin. For further information, please see my article "The London Pianist: Theresa Jansen and the English Works of Haydn, Dussek, and Clementi" in HAYDN: the Online Journal of the Haydn Society of North America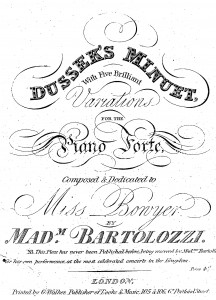 , Vol. 2.1 (May 2012). Eventually, I hope to publish Jansen's piano works in a facsimile edition for the benefit of performers and historians.
Currently, two large concert works are known, along with a handful of smaller pieces intended for the English dilettante and dance markets. Jansen's concerts pieces, A Grand Sonata for the Piano Forte (dedicated to the Duke of Sussex), and Dussek's Minuet with Five Brilliant Variations for the Piano Forte (dedicated to Miss Bonyer), are quintessential specimens of English piano writing with extended arpeggiated figures, repetitive bass patterns, and virtuosic passages in running octaves. Her compositional style clearly stems from her teacher, Clementi, but has the distinctive trait of frequently manipulating the English piano's upper range.
The sonata, in A major, is in three movements (Allegro, Andantino, Rondo Presto), and takes full advantage of the English piano's characteristically undampened high octaves. The second movement of the sonata includes a detailed cadenza passage, which captures Jansen's improvisational style and her use of extended pedal technique. The Minuet with Five Brilliant Variations is an impressive display of composed virtuosity, with cadenza-like figures ad libitum, arpeggios that span the full piano range, and generous fermata that allow the instrument to ring. The variations end with the menuet set in relentless running 32nd notes, marked Presto and closed with a flurry of 64th notes.
Jansen's concert activity was generally closed to the public, as she typically performed in private concert for noble patrons. This has made her œuvre and performance history elusive and challenging to trace. With further research, it is likely that more of her published concert works will come to light, which will allow for a deeper understanding of Jansen's compositions as part of the London pianoforte school.