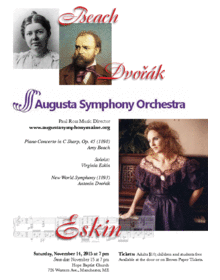 We were delighted to feature Virginia Eskin's review on the new book about the Bauer sisters (in case you missed it, you can find it here) — and now we are delighted that she will be continuing to advocate for women composers in concert next weekend!
The Augusta (ME) Symphony Orchestra is nonprofit symphony with volunteer amateur and semi-professional members.  On November 14 they will be presenting Amy Beach's Piano Concerto featuring Eskin as the piano soloist.  The program will also include New World Symphony by Antonín Dvořák.  This is a perfect pairing for the concert as Beach and Dvořák were contemporaries with unique approaches to symphonic writing.  No doubt fans of the New World Symphony will be happily surprised as they become familiar with the fantastic, but long neglected work by Beach.
Beach's Piano Concerto was recorded by the Nashville Symphony Orchestra under the baton of Kenneth Schermerhorn.  (Her Gaelic Symphony was included on the same album.)  Have a listen to the complete recording of the concerto below – and be sure to also read the liner notes written by Beach biographer Adrienne Fried Block:
For those interested, Adrienne Fried Block includes significant discussion in Beach's biography, Passionate Victorian, about the composition and reception of the Piano Concerto.  Learn more about Virginia Eskin's work as a soloist and scholar on her website.  You can buy tickets for the concert here, and learn more about the ensemble on their Facebook page.