Happy Holidays, everybody! As the festive season is firmly underway, I've curated a selection of the finest holiday orchestral and choral music written by women. Whilst the gazillionth performance of Handel's Messiah may be a longstanding tradition in many places, this week I offer some amazing alternative holiday and Christmas classics to program.
Margaret Ruthven Lang – The Heavenly Noël (1916)
Her Opus 57, The Heavenly Noël marks one of Lang's final compositions. A religious devotee in later life, Lang sets a text here by Anglican clergyman and poet Richard Lawson Gales, creating a beautifully enigmatic piece arranged for choir, small orchestra, organ and cello.  Starting on a somewhat mystical, sparsely scored note, The Heavenly Noël slowly builds from the solo vocal part, the texture becoming more layered and complex until the choir joins in halfway through.
Access Piano & Organ Reduction on IMSLP
Vítězslava Kaprálová – Christmas Prelude (Prelude de Noël) for Chamber Orchestra
Written and recorded in 1939 for a Parisian Christmas Eve radio broadcast, Prelude de Noël rings with a familiar European Christmas sound, as a festive brass fanfare opens the work. Cheery winds and swirling strings abound before a mysterious oboe and bassoon duet in the middle section. The flurry of strings return, depicting a snowy, wintry, night leading to a final dance-like motif, bringing the piece to a quick, understated close.
Rebecca Clarke – Combined Carols (or get 'em all over at once)
Mash-ups went classical in 1942 with this cheeky take on Christmas carols. Featuring the well-known verses God Rest Ye Merry Gentlemen, Silent Night and O Come All Ye Faithful, Clarke mixed them all together for string quartet with a touch of contrapuntal verve for the amusement of her family. She subsequently arranged it for string orchestra and both versions are reported to be published. The University of Portland Chamber Orchestra performed the work in 2020. Our friends at The Rebecca Clarke Society, Inc.  do have a copy of the published string orchestra version that they are happy to loan in the US. (email [email protected])
Access String Quartet Score Here
Margaret Bonds – Ballad of the Brown King (1954)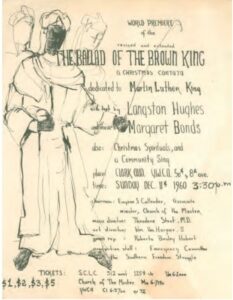 Move over, Messiah! This spectacular Christmas cantata needs to be on every choir's regular holiday programming. Written by American composer Margaret Bonds with libretto by her friend and Harlem Renaissance leader Langston Hughes, Ballad of the Brown King tells the story of the dark-skinned King Balthazar who travelled to Bethlehem.
Through nine breath-taking movements, Margaret Bonds and Langston Hughes conjure a wonderfully evocative work, echoing with love and warmth. A true celebration of Black creativity whose world premiere recording in 2019, from conductor Malcom J Merriweather, brought together some of the finest Black artists in America, creating a landmark album for the ages. (the entire CD booklet is here. This is on the Avie label, whose recent Grammy-nominated CD was featured in a previous post).
Teresa Procaccini – Chant de Noel
An unusual combination for the next selection: oboe and string orchestra, not an instrumental union you hear very frequently, however it is very effective. Written in 2000, enjoy a dreamy piece for the new millennium. Known for her brilliant wind and brass music, Italian composer Procaccini offers a modern take on the Christmas spirit, highlighting the warmth of the solo oboe with a pastoral sheen.
Access score on Composer Website
Rosephanye Powell – Christmas Give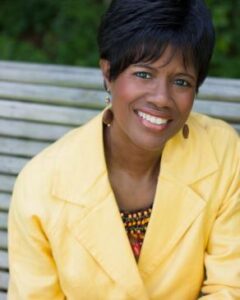 Rosephanye Powell wrote this stunning suite of six songs in 2009, her powerful message of love and hope resounding throughout each piece. Evoking fond memories of her own childhood in Alabama, Powell transports us to a Christmas full of merriment, laughter and family. Taking inspiration from African tales, Harlem Renaissance poet Countee Cullen, popular ballads, gospel music and movie musicals, Rosephanye Powell's Christmas Give offers an entire festive world and a reason to celebrate all year round.
Deborah Cheetham – Christmas With You
During that difficult 2020 holiday season filled with COVID restrictions, ABC Classic found the perfect way to lift the spirits of those down under (and elsewhere too)! Commissioning the amazing Deborah Cheetham to compose a brand-new carol, they created the Classic Choir consisting of 1500 Australians from all over the country. Each person downloaded the sheet music, rehearsed privately and online before filming their contribution. ABC Classic collected all 1500 solo videos into the final video featuring every single contributor and the Queensland Symphony Orchestra, releasing the extraordinary piece on December 15, 2020. This gloriously moving carol, a true modern classic, should be a regular holiday staple from now on.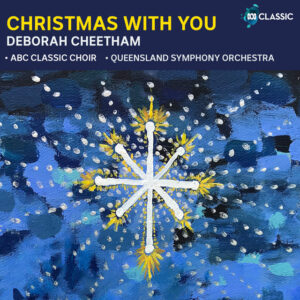 Contact Australian Music Centre for access to Score and Parts
Access Vocal Score & Piano Reduction Here
I hope you enjoy this brief selection of incredible pieces, broadening your festive horizons from the usual fare and encouraging some wider programming every season.
Happy Holidays everyone!