In its three performances this weekend, the Baltimore Symphony Orchestra took a monumental step in bringing to light an 1873 Overture by Swedish composer Elfrida Andrée (1841-1929).  The concerts have been led by guest conductor Arild Remmereit. Devoted readers will remember that we honored Remmereit and the Rochester Philharmonic Orchestra in the spring of 2012, for having programmed works by women in every concert that season, including some monumental works like Amy Beach's Symphony.  We gave him and the RPO the AMY award in recognition of this brilliant programming and artistic excellence.  Remmereit continues this visionary work this weekend in Baltimore, in what is the East Coast premiere and only the third modern performance of the Concert Ouverture in D major by Elfrida Andrée.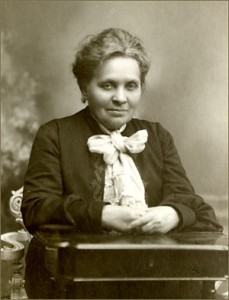 Andrée's work has been edited and championed by the musicologist and violinist, Dr. Susan Pickett (of Whitman College in eastern WA) for many years.  The Norwegian Remmereit shares Scandinavian identity with Andrée, and her music is on the program this weekend with works by Mozart, and her contemporary, Tchaikovsky.
Andrée was a remarkable pioneer, serving as a professional organist in Stockholm and Göteborg (Gothenburg), although she first had to work to change a law, so that she would be permitted to do so.  Andrée most likely conducted the premiere herself in its premiere in Berlin in 1888.  The work then languished in an archive for more than 100 years until Dr. Pickett worked to edit it and have it performed in 1998 by the Walla Walla Symphony in Washington. The Swedish radio Symphony then performed it in 1999.  The performances this weekend are only the third modern performances, so there is quite a lot of excitement around bring this orchestral work to light.
The program for the Baltimore Symphony Orchestra concert is here http://issuu.com/baltsymphony/docs/september_october_final (you can search for Elfrida)
Congratulations to Maestro Remmereit, Dr. Susan Pickett and the Baltimore Symphony for letting audiences share in this remarkable and majestic Ouverture. A recording of the Swedish Radio Symphony playing the Overture can be heard on YouTube.