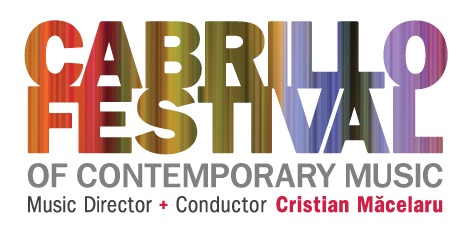 The Cabrillo Festival of Contemporary Music has celebrated new music for 55 years – performing, commissioning, and advocating for the works of the greatest living composers, as well as creating opportunities for young composers to have their works heard.  After decades of dedicated leadership, Marin Alsop has handed the reigns of the Festival to Cristian Macelaru, who is directing his first Festival this year, with an impressive line up of concerts and events already underway!
The Festival, which takes place July 30 through August 12, features the work of four contemporary women.
On Friday, August 4, the Festival will present the World Premiere of Clarice Assad's Ad Infinitum, a new percussion concerto commissioned by the Festival.  As an even bigger treat, Evelyn Glennie will be performing. Learn more here.
Gabriela Lena Frank's Three Latin American Dances will be heard on Saturday, August 5 in the same concert as Cindy McTee's Double Play.  McTee will also have her Symphony No. 1 performed on Friday, August 11.
Gabriella Smith's newest work, Field Guide, which was commissioned by the Festival as a tribute for the celebration of John Adams' 70th birthday, will be heard on Saturday, August 12.
For those of us who can't make it to Santa Cruz for the Festival, listen in to some of the works being performed on our Spotify Playlist: